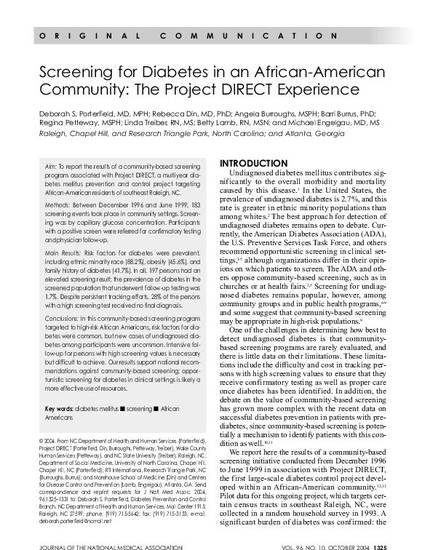 Article
Screening for Diabetes in an African American Community: The Project DIRECT Experience
Journal of the National Medical Association (2004)
Abstract
AIM: To report the results of a community-based screening program associated with Project DIRECT, a multi-year diabetes mellitus prevention and control project targeting African-American residents of southeast Raleigh, NC. METHODS: Between December 1996 and June 1999, 183 screening events took place in community settings.Screening was by capillary glucose concentration. Participants with a positive screen were referred for confirmatory testing and physician follow-up. MAIN RESULTS: Risk factors for diabetes were prevalent, including ethnic minority race (88.2%), obesity (45.6%), and family history of diabetes (41.7%). In all, 197 persons had an elevated screening result; the prevalence of diabetes in the screened population that underwent follow-up testing was 1.7%. Despite persistent tracking efforts, 28% of the persons with a high screening test received no final diagnosis CONCLUSIONS: In this community-based screening program targeted to high-risk African Americans, risk factors for diabetes were common, but new cases of undiagnosed diabetes among participants were uncommon. Intensive follow-up for persons with high screening values is necessary but difficult to achieve. Our results support national recommendations against community-based screening; opportunistic screening for diabetes in clinical settings is likely a more effective use of resources.
Publication Date
October, 2004
Citation Information
Deborah S Porterfield, Rebecca Din, Angela Burroughs, Barri Burrus, et al.. "Screening for Diabetes in an African American Community: The Project DIRECT Experience"
Journal of the National Medical Association
Vol. 96 Iss. 10 (2004)
Available at: http://works.bepress.com/linda_treiber/5/