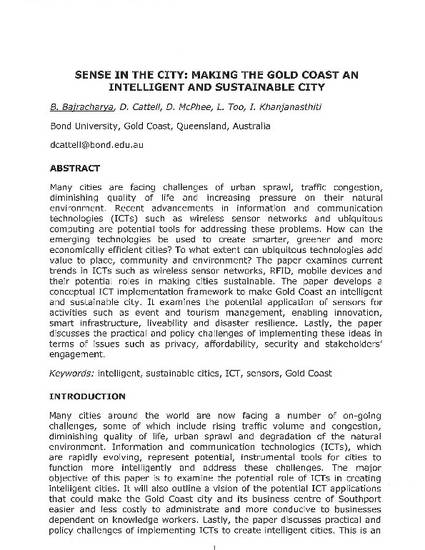 Presentation
Sense in the city: Making the Gold Coast an intelligent and sustainable city
38th Australian University Building Educators Association Conference
Date of this Version
7-1-2013
Document Type
Conference Paper
Abstract
Many cities are facing challenges of urban sprawl, traffic congestion, diminishing quality of life and increasing pressure on their natural environment. Recent advancements in information and communication technologies (ICTs) such as wireless sensor networks and ubiquitous computing are potential tools for addressing these problems. How can the emerging technologies be used to create smarter, greener and more economically efficient cities? To what extent can ubiquitous technologies add value to place, community and environment? The paper examines current trends in ICTs such as wireless sensor networks, RFID, mobile devices and their potential roles in making cities sustainable. The paper develops a conceptual ICT implementation framework to make Gold Coast an intelligent and sustainable city. It examines the potential application of sensors for activities such as event and tourism management, enabling innovation, smart infrastructure, liveability and disaster resilience. Lastly, the paper discusses the practical and policy challenges of implementing these ideas in terms of issues such as privacy, affordability, security and stakeholders' engagement.
Citation Information
Bhishna Bajracharya, David Cattell, Daryl McPhee, Linda Too, et al.. "Sense in the city: Making the Gold Coast an intelligent and sustainable city"
38th Australian University Building Educators Association Conference
(2013) p. 1 - 10
Available at: http://works.bepress.com/linda_too/14/