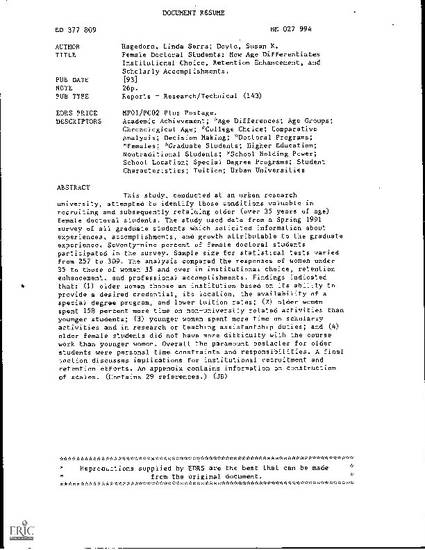 Unpublished Paper
Female Doctoral Students: How Age Differentiates Institutional Choice, Retention Enhancement, and Scholarly Accomplishments
ERIC Number: ED377809 (1993)
Abstract
This study, conducted at an urban research university, attempted to identify those conditions valuable in recruiting and subsequently retaining older (over 35 years of age) female doctoral students. The study used data from a Spring 1991 survey of all graduate students which solicited information about experiences, accomplishments, and growth attributable to the graduate experience. Seventy-nine percent of female doctoral students participated in the survey. Sample size for statistical tests varied from 257 to 309. The analysis compared the responses of women under 35 to those of women 35 and over in institutional choice, retention enhancement, and professional accomplishments. Findings indicated that: (1) older women choose an institution based on its ability to provide a desired credential, its location, the availability of a special degree program, and lower tuition rates; (2) older women spent 158 percent more time on non-university related activities than younger students; (3) younger women spent more time on scholarly activities and in research or teaching assistantship duties; and (4) older female students did not have more difficulty with the course work than younger women. Overall the paramount obstacles for older students were personal time constraints and responsibilities. A final section discusses implications for institutional recruitment and retention efforts. An appendix contains information on construction of scales.
Citation Information
Linda Serra Hagedorn and Susan K. Doyle. "Female Doctoral Students: How Age Differentiates Institutional Choice, Retention Enhancement, and Scholarly Accomplishments"
ERIC Number: ED377809
(1993)
Available at: http://works.bepress.com/linda_hagedorn/9/