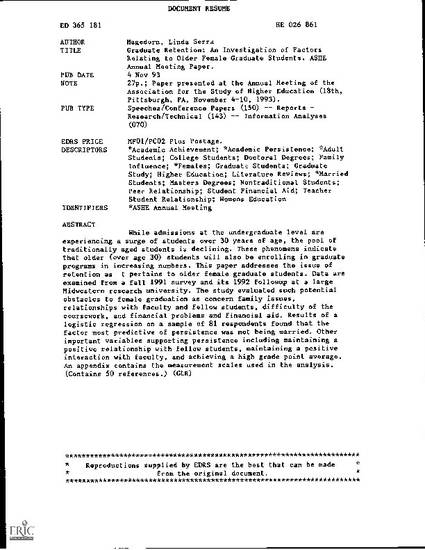 Presentation
Graduate Retention: An Investigation of Factors Relating to Older Female Graduate Students
Association for the Study of Higher Education Annual Meeting (1993)
Abstract
While admissions at the undergraduate level are experiencing a surge of students over 30 years of age, the pool of traditionally aged students is declining. These phenomena indicate that older (over age 30) students will also be enrolling in graduate programs in increasing numbers. This paper addresses the issue of retention as it pertains to older female graduate students. Data are examined from a fall 1991 survey and its 1992 followup at a large Midwestern research university. The study evaluated such potential obstacles to female graduation as concern family issues, relationships with faculty and fellow students, difficulty of the coursework, and financial problems and financial aid. Results of a logistic regression on a sample of 81 respondents found that the factor most predictive of persistence was not being married. Other important variables supporting persistence including maintaining a positive relationship with fellow students, maintaining a positive interaction with faculty, and achieving a high grade point average. An appendix contains the measurement scales used in the analysis.
Keywords
Academic achievement,
Academic persistence,
Adult students,
College students,
Doctoral degrees,
Family influence,
Females,
Graduate students,
Graduate study,
Higher education,
Literature reviews,
Married students,
Masters degrees,
Nontraditional students,
Peer relationship,
Student financial aid,
Teacher student relationship,
Womens education
Publication Date
November, 1993
Citation Information
Linda Serra Hagedorn. "Graduate Retention: An Investigation of Factors Relating to Older Female Graduate Students"
Association for the Study of Higher Education Annual Meeting
(1993)
Available at: http://works.bepress.com/linda_hagedorn/10/