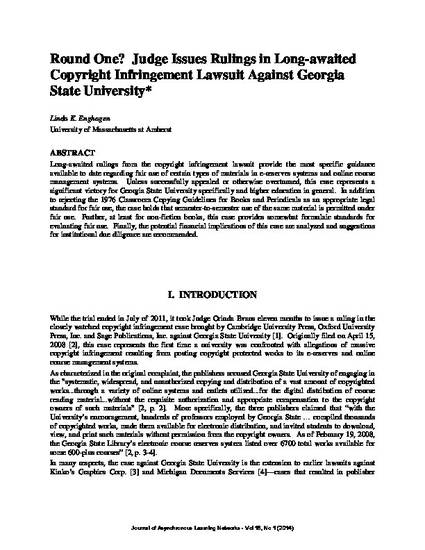 Article
Round One? Judge Issues Rulings in Long-awaited Copyright Infringement Lawsuit Against Georgia State University
Journal of Asynchronous Learning Networks (2014)
Abstract
Long-awaited rulings from the copyright infringement lawsuit provide the most specific guidance available to date regarding fair use of certain types of materials in e-reserves systems and online course management systems. Unless successfully appealed or otherwise overturned, this case represents a significant victory for Georgia State University specifically and higher education in general. In addition to rejecting the 1976 Classroom Copying Guidelines for Books and Periodicals as an appropriate legal standard for fair use, the case holds that semester-to-semester use of the same material is permitted under fair use. Further, at least for non-fiction books, this case provides somewhat formulaic standards for evaluating fair use. Finally, the potential financial implications of this case are analyzed and suggestions for institutional due diligence are recommended.
Citation Information
Linda K Enghagen. "Round One? Judge Issues Rulings in Long-awaited Copyright Infringement Lawsuit Against Georgia State University"
Journal of Asynchronous Learning Networks
Vol. 18 Iss. 1 (2014)
Available at: http://works.bepress.com/linda_enghagen/1/