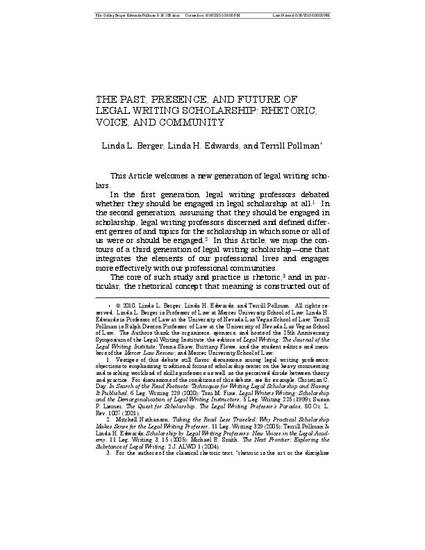 Article
The Past, Presence, and Future of Legal Writing Scholarship: Rhetoric, Voice, and Community
J. Leg. Writing (2010)
Abstract
This Article welcomes a new generation of legal writing scholars. In the first generation, legal writing professors debated whether they should be engaged in legal scholarship at all. In the second generation, assuming that they should be engaged in scholarship, legal writing professors discerned and defined different genres of and topics for the scholarship in which some or all of us were or should be engaged. In this Article, we map the contours of a third generation of legal writing scholarship—one that integrates the elements of our professional lives and engages more effectively with our professional communities. The core of such study and practice is rhetoric. Part I of the Article takes a look back at our developing discipline. Part II addresses the rhetorical communities we are constructing through our scholarship, as well as some ways we might think about re-imagining them. Part III sketches a possible map for our future, discussing the reasons why legal writing professors should be writing and suggesting that rhetoric provides topics, theories, and practices for teaching and scholarship that can guide academics, lawyers, and law students.
Keywords
scholarship,
rhetoric,
legal writing,
legal scholarship
Citation Information
Linda L. Berger. "The Past, Presence, and Future of Legal Writing Scholarship: Rhetoric, Voice, and Community"
J. Leg. Writing
Vol. 16 (2010)
Available at: http://works.bepress.com/linda_berger/3/