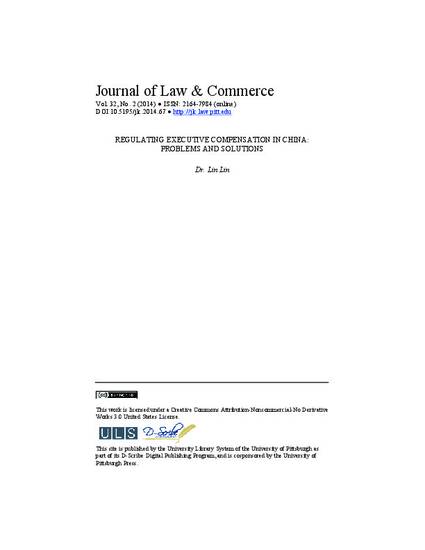 Article
Regulating Executive Compensation in China: Problems and Solutions
Journal of Law and Commerce (2014)
Abstract
Executive compensation is an essential element of a corporate governance system and an issue of public concern and academic debate. However, the existing literature on executive compensation has primarily focused on the United States, United Kingdom and continental European jurisdictions. This paper presents a comprehensive comparative study of the law and practices of executive pay in China. It critically examines the processes that produce compensation arrangements, as well as the various legal strategies and market forces that act on these processes in the context of China.
Based on extensive empirical evidence, it finds that excessive pay in China is less prevalent than that in the United States. Nevertheless, Chinese executive compensation is not optimal in that there are both excessive executive pay and low levels of equity incentives for executives in Chinese listed companies. Meanwhile, executives of state-owned enterprises are largely compensated by on-duty consumption, grey income and political reward.
The article argues that the fundamental problem of executive pay in Chinese listed companies lies in the internal defects of its unique governance institutions, as well as the prevalence of concentrated state ownership in listed companies. It concludes that the primary role of Chinese law in regulating executive compensation should not simply be to curb excessive executive pay, but it should be to improve the regulatory structure for setting executive pay in a fairer and more transparent way. To achieve this, regulatory strategies, especially heightened disclosure and strengthening the independence of the compensation committee, must be taken.
Keywords
executive compensation,
listed companies,
China,
regulation
DOI
https://papers.ssrn.com/sol3/papers.cfm?abstract_id=2472359
Citation Information
Lin, Lin, Regulating Executive Compensation in China: Problems and Solutions (2014). Journal of Law and Commerce, Vol 32, No 2 (2014), 207-254