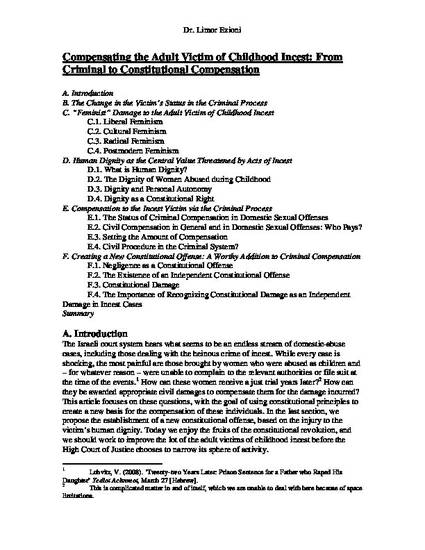 Unpublished Paper
Compensating the Adult Victim of Childhood Incest: From Criminal to Constitutional Compensation
ExpressO (2010)
Abstract
Adult victims of childhood incest face a multitude of problems when seeking redress from the courts: complex emotional and psychological issues, administrative difficulties in filing a complaint, the statute of limitation in civil suits, and inadequate financial compensation, to name just a few. Here we focus on the legal, moral, and philosophical dilemmas related to the question of proper punishment for the offender. Every legal system takes a different approach to this matter, often reflective of local legal/social norms. We believe that the Israeli experience can serve as springboard for research and debate on both the theoretical and practical aspects of punitive measures against abusers.
We analyze a range of punitive measures – plea bargaining, prevention, deterrence, rehabilitation, uniform sentencing guidelines, and alternatives to imprisonment – each in light of available data and Israeli case law, and ask whether current trends in punishment correspond with the particular needs of adults who were sexually abused during childhood. It is regretful that despite growing recognition of the plight of incest survivors in Israel and around the world, legal redress is rarely sufficient. This becomes all-too obvious when we turn out attention to the punitive measures taken against abusers.
The paper supports harsher prison sentences for most abusers and argues that this is necessary for the victim's sake. Others have voiced the same argument; our contribution is the analysis of how Israel has dealt with the punishment of those found guilty of incest. We believe that the Israeli experience provides an excellent springboard for a discussion of proper punishment of those found guilty of incest. This is especially germane today, given the current trend towards lighter sentencing for criminal offenders.
Publication Date
December 11, 2010
Citation Information
Limor Ezioni. "Compensating the Adult Victim of Childhood Incest: From Criminal to Constitutional Compensation"
ExpressO
(2010)
Available at: http://works.bepress.com/limor_ezioni/2/