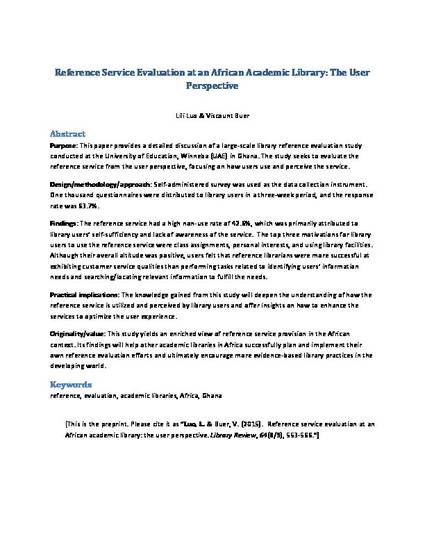 Article
Reference service evaluation at an African academic library: the user perspective
Library Review (2015)
Abstract
Purpose
– This paper aims to provide a detailed discussion of a large-scale library reference evaluation study conducted at the University of Education, Winneba (UEW) in Ghana. The study seeks to evaluate the reference service from the user perspective, focusing on how users use and perceive the service.
Design/methodology/approach
– Self-administered survey was used as the data collection instrument. One thousand questionnaires were distributed to library users in a three-week period, and the response rate was 63.7 per cent.
Findings
– The reference service had a high non-use rate of 42.6 per cent, which was primarily attributed to library users' self-sufficiency and lack of awareness of the service. The top three motivations for library users to use the reference service were class assignments, personal interests and using library facilities. Although their overall altitude was positive, users felt that reference librarians were more successful at exhibiting customer service qualities than performing tasks related to identifying users' information needs and searching/locating relevant information to fulfill the needs.
Practical implications
– The knowledge gained from this study will deepen the understanding of how the reference service is utilised and perceived by library users and offer insights on how to enhance the services to optimise the user experience.
Originality/value
– This study yields an enriched view of reference service provision in the African context. Its findings will help other academic libraries in Africa successfully plan and implement their own reference evaluation efforts and ultimately encourage more evidence-based library practices in the developing world.
Keywords
Evaluation,
Africa,
Ghana,
Academic libraries,
Reference
DOI
10.1108/LR-04-2015-0046
Citation Information
Lili Luo and Viscount B. Buer. "Reference service evaluation at an African academic library: the user perspective"
Library Review
Vol. 64 Iss. 8/9 (2015) p. 552 - 566 ISSN: 0024-2535
Available at: http://works.bepress.com/lili_luo/30/