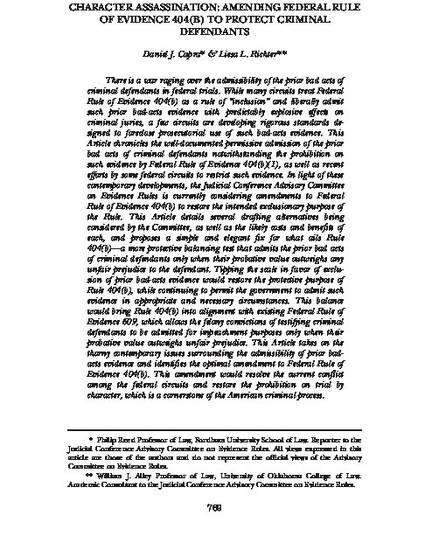 Article
Character Assassination: Amending Federal Rule of Evidence 404(b) to Protect Criminal Defendants
Columbia Law Review (2018)
Abstract
There is a war raging over the admissibility of the prior bad acts of criminal defendants in federal trials. While many circuits treat Federal Rule of Evidence 404(b) as a rule of "inclusion" and liberally admit such prior bad-acts evidence with predictably explosive effects on criminal juries, a few circuits are developing rigorous standards designed to foreclose prosecutorial use of such bad-acts evidence. This Article chronicles the well-documented permissive admission of the prior bad acts of criminal defendants notwithstanding the prohibition on such evidence by Federal Rule of Evidence 404(b)(1), as well as recent efforts by some federal circuits to restrict such evidence. In light of these contemporary developments, the Judicial Conference Advisory Committee on Evidence Rules is currently considering amendments to Federal Rule of Evidence 404(b) to restore the intended exclusionary purpose of the Rule. This Article details several drafting alternatives being considered by the Committee, as well as the likely costs and benefits of each, and proposes a simple and elegant fix for what ails Rule 404(b)—a more protective balancing test that admits the prior bad acts of criminal defendants only when their probative value outweighs any unfair prejudice to the defendant. Tipping the scale in favor of exclusion
of prior bad-acts evidence would restore the protective purpose of Rule 404(b), while continuing to permit the government to admit such evidence in appropriate and necessary circumstances. This balance would bring Rule 404(b) into alignment with existing Federal Rule of Evidence 609, which allows the felony convictions of testifying criminal defendants to be admitted for impeachment purposes only when their probative value outweighs unfair prejudice. This Article takes on the thorny contemporary issues surrounding the admissibility of prior bad-acts
evidence and identifies the optimal amendment to Federal Rule of Evidence 404(b). This amendment would resolve the current conflict among the federal circuits and restore the prohibition on trial by character, which is a cornerstone of the American criminal process.
Keywords
bad acts,
Federal Rules of Evidence,
404(b),
other acts evidence
Citation Information
Liesa L. Richter. "Character Assassination: Amending Federal Rule of Evidence 404(b) to Protect Criminal Defendants"
Columbia Law Review
Vol. 118 Iss. 3 (2018) p. 769
Available at: http://works.bepress.com/liesa_richter/21/