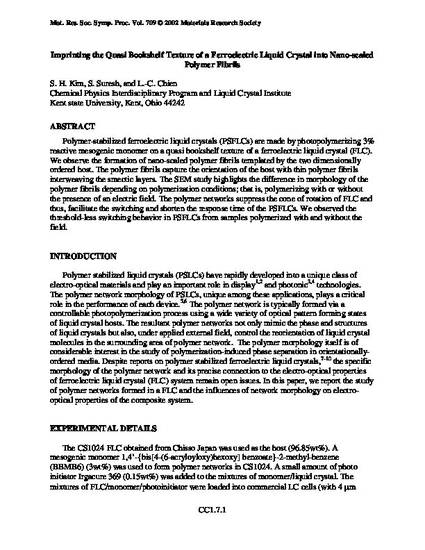 Article
Imprinting the Quasi Bookshelf Texture of a Ferroelectric Liquid Crystal into Nano-Scaled Polymer Fibrils
Advances in Liquid Crystalline Materials and Technologies
Publication Date
1-1-2002
Document Type
Conference Proceeding
Abstract
Polymer-stabilized ferroelectric liquid crystals (PSFLCs) are made by photopolymerizing 3% reactive mesogenic monomer on a quasi bookshelf texture of a ferroelectric liquid crystal (FLC). We observe the formation of nano-scaled polymer fibrils templated by the two dimensionally ordered host. The polymer fibrils capture the orientation of the host with thin polymer fibrils interweaving the smectic layers. The SEM study highlights the difference in morphology of the polymer fibrils depending on polymerization conditions; that is, polymerizing with or without the presence of an electric field. The polymer networks suppress the cone of rotation of FLC and thus, facilitate the switching and shorten the response time of the PSFLCs. We observed the threshold-less switching behavior in PSFLCs from samples polymerized with and without the field.
Citation Information
S. H. Kim, S. Suresh and Liang-Chy Chien. "Imprinting the Quasi Bookshelf Texture of a Ferroelectric Liquid Crystal into Nano-Scaled Polymer Fibrils"
Advances in Liquid Crystalline Materials and Technologies
Vol. 709 (2002) p. 9 - 13
Available at: http://works.bepress.com/liang-chy_chien/33/