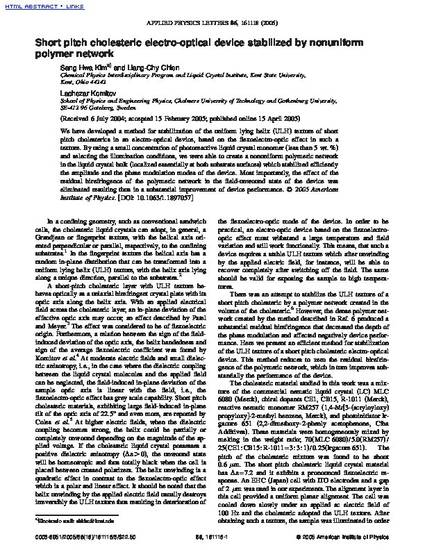 Article
Short Pitch Cholesteric Electro-Optical Device Stabilized by Nonuniform Polymer Network
Applied Physics Letters
Publication Date
4-18-2005
Abstract
We have developed a method for stabilization of the uniform lying helix (ULH) texture of short pitch cholesterics in an electro-optical device, based on the flexoelectro-optic effect in such a texture. By using a small concentration of photoreactive liquid crystal monomer (less than 5 wt. %) and selecting the illumination conditions, we were able to create a nonuniform polymeric network in the liquid crystal bulk (localized essentially at both substrate surfaces) which stabilized efficiently the amplitude and the phase modulation modes of the device. Most importantly, the effect of the residual birefringence of the polymeric network in the field-unwound state of the device was eliminated resulting thus in a substantial improvement of device performance.
Citation Information
Sang Hwa Kim and Liang-Chy Chien. "Short Pitch Cholesteric Electro-Optical Device Stabilized by Nonuniform Polymer Network"
Applied Physics Letters
Vol. 86 Iss. 16 (2005)
Available at: http://works.bepress.com/liang-chy_chien/27/