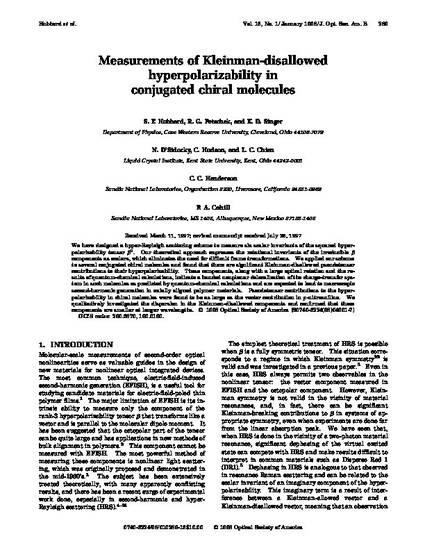 Article
Measurements of Kleinman-Disallowed Hyperpolarizability in Conjugated Chiral Molecules
Journal of the Optical Society of America B-Optical Physics (1998)
Abstract
We have designed a hyper-Rayleigh scattering scheme to measure six scalar invariants of the squared hyperpolarizability tensor beta(2). OUT theoretical approach expresses the rotational invariants of the irreducible beta components as scalars, which eliminates the need for difficult frame transformations. We applied our scheme to several conjugated chiral molecules and found that there are significant Kleinman-disallowed pseudotensor contributions to their hyperpolarizability. These components, along with a large optical rotation and the results of quantum-chemical calculations, indicate a handed nonplanar delocalization of the charge-transfer system in such molecules as predicted by quantum-chemical calculations and are expected to lead to macroscopic second-harmonic generation in axially aligned polymer materials. Pseudotensor contributions to the hyperpolarizability in chiral molecules were found to be as large as the vector contribution in p-nitroaniline. We qualitatively investigated the dispersion in the Kleinman-disallowed components and confirmed that these components are smaller at longer wavelengths. (C) 1998 Optical Society of America.
Citation Information
S. F. Hubbard, R. G. Petschek, K. D. Singer, N. D'Sidocky, et al.. "Measurements of Kleinman-Disallowed Hyperpolarizability in Conjugated Chiral Molecules"
Journal of the Optical Society of America B-Optical Physics
Vol. 15 Iss. 1 (1998)
Available at: http://works.bepress.com/liang-chy_chien/13/