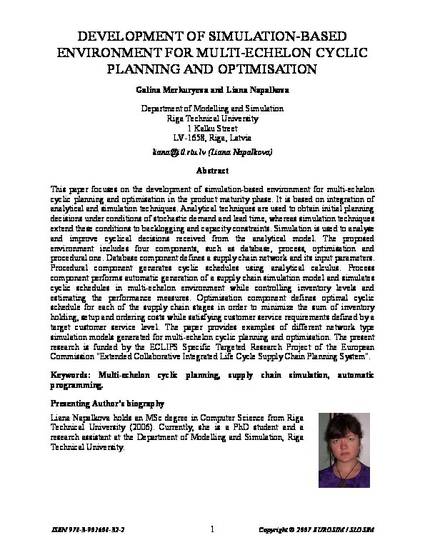 Article
DEVELOPMENT OF SIMULATION-BASED ENVIRONMENT FOR MULTI-ECHELON CYCLIC PLANNING AND OPTIMISATION
Proceedings of the 6th EUROSIM Congress on Modelling and Simulation (2007)
Abstract
This paper focuses on the development of simulation-based environment for multi-echelon cyclic planning and optimisation in the product maturity phase. It is based on integration of analytical and simulation techniques. Analytical techniques are used to obtain initial planning decisions under conditions of stochastic demand and lead time, whereas simulation techniques extend these conditions to backlogging and capacity constraints. Simulation is used to analyse and improve cyclical decisions received from the analytical model. The proposed environment includes four components, such as database, process, optimisation and procedural one. Database component defines a supply chain network and its input parameters. Procedural component generates cyclic schedules using analytical calculus. Process component performs automatic generation of a supply chain simulation model and simulates cyclic schedules in multi-echelon environment while controlling inventory levels and estimating the performance measures. Optimisation component defines optimal cyclic schedule for each of the supply chain stages in order to minimize the sum of inventory holding, setup and ordering costs while satisfying customer service requirements defined by a target customer service level. The paper provides examples of different network type simulation models generated for multi-echelon cyclic planning and optimisation. The present research is funded by the ECLIPS Specific Targeted Research Project of the European Commission "Extended Collaborative Integrated Life Cycle Supply Chain Planning System".
Publication Date
September, 2007
Citation Information
Galina Merkuryeva and Liana Napalkova. "DEVELOPMENT OF SIMULATION-BASED ENVIRONMENT FOR MULTI-ECHELON CYCLIC PLANNING AND OPTIMISATION"
Proceedings of the 6th EUROSIM Congress on Modelling and Simulation
(2007)
Available at: http://works.bepress.com/liana_napalkova/2/