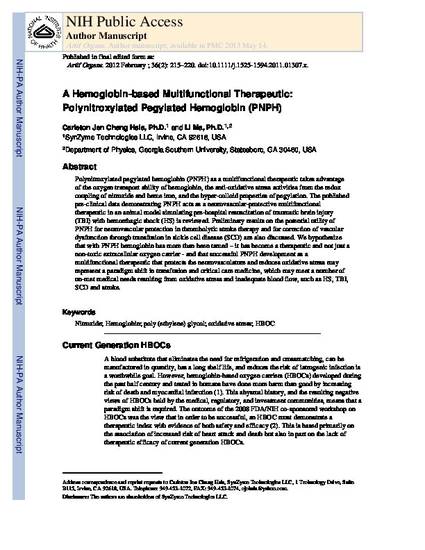 Article
A Hemoglobin-Based Multifunctional Therapeutic: Polynitroxylated Pegylated Hemoglobin
Artificial Organs
Publication Date
1-1-2012
DOI
10.1111/j.1525-1594.2011.01307.x
Abstract
Polynitroxylated pegylated hemoglobin (PNPH) as a multifunctional therapeutic takes advantage of the ability of hemoglobin (Hb) to transport oxygen, the antioxidative stress activities from the redox coupling of nitroxide and heme iron, and the hypercolloid properties of pegylation. The published preclinical data demonstrating that PNPH acts as a neurovascular protective multifunctional therapeutic in an animal model simulating prehospital resuscitation of traumatic brain injury (TBI) with hemorrhagic shock (HS) are reviewed. Preliminary results on the potential utility of PNPH for neurovascular protection in thrombolytic stroke therapy and for correction of vascular dysfunction through transfusion in sickle-cell disease (SCD) are also discussed. We hypothesize that with PNPH, Hb has more than been tamed--it has become a therapeutic and not just a nontoxic extracellular oxygen carrier--and that successful PNPH development as a multifunctional therapeutic that protects the neurovasculature and reduces oxidative stress may represent a paradigm shift in transfusion and critical care medicine, which may meet a number of unmet medical needs resulting from oxidative stress and inadequate blood flow, such as HS, TBI, SCD, and stroke.
Citation Information
Carleton C. J. Hsia and Li Ma. "A Hemoglobin-Based Multifunctional Therapeutic: Polynitroxylated Pegylated Hemoglobin"
Artificial Organs
Vol. 36 Iss. 2 (2012) p. 215 - 220
Available at: http://works.bepress.com/li_ma/30/