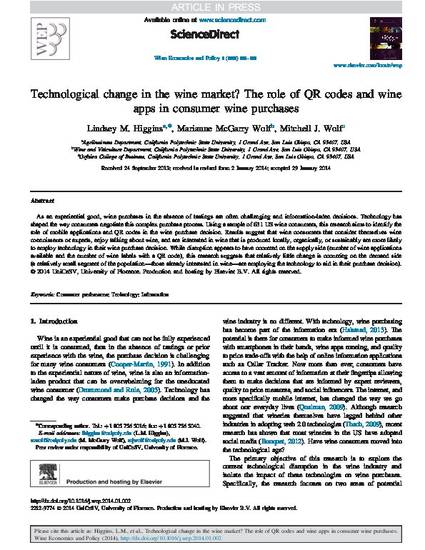 Article
Technological Change in the Wine Market? The Role of QR Codes and Wine Apps in Consumer Wine Purchases
Wine Economics and Policy
Publication Date
2-15-2014
Abstract
As an experiential good, wine purchases in the absence of tastings are often challenging and information-laden decisions. Technology has shaped the way consumers negotiate this complex purchase process. Using a sample of 631 US wine consumers, this research aims to identify the role of mobile applications and QR codes in the wine purchase decision. Results suggest that wine consumers that consider themselves wine connoisseurs or experts, enjoy talking about wine, and are interested in wine that is produced locally, organically, or sustainably are more likely to employ technology in their wine purchase decision. While disruption appears to have occurred on the supply side (number of wine applications available and the number of wine labels with a QR code), this research suggests that relatively little change is occurring on the demand side (a relatively small segment of the population—those already interested in wine—are employing the technology to aid in their purchase decision).
Citation Information
Lindsey M. Higgins, Marianne McGarry Wolf and Mitchell J. Wolf. "Technological Change in the Wine Market? The Role of QR Codes and Wine Apps in Consumer Wine Purchases"
Wine Economics and Policy
(2014)
Available at: http://works.bepress.com/lhiggins/7/