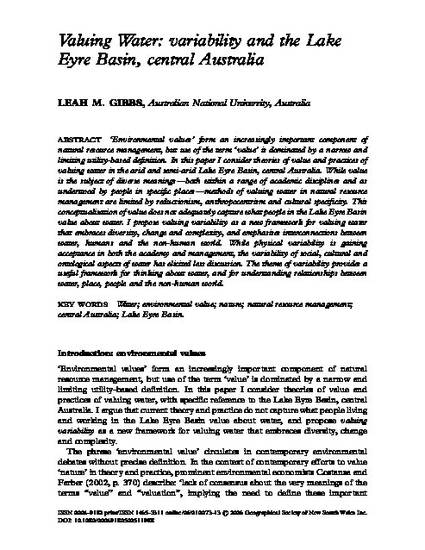 Article
Valuing Water: variability and the Lake Eyre Basin, central Australia
Australian Geographer
Publication Date
1-1-2006
Abstract
'Environmental values' form an increasingly important component of natural resource management, but use of the term 'value' is dominated by a narrow and limiting utility-based definition. In this paper I consider theories of value and practices of valuing water in the arid and semi-arid Lake Eyre Basin, central Australia. While value is the subject of diverse meanings - both within a range of academic disciplines and as understood by people in specific places - methods of valuing water in natural resource management are limited by reductionism, anthropocentrism and cultural specificity. This conceptualisation of value does not adequately capture what people in the Lake Eyre Basin value about water. I propose valuing variability as a new framework for valuing water that embraces diversity, change and complexity, and emphasises interconnections between water, humans and the non-human world. While physical variability is gaining acceptance in both the academy and management, the variability of social, cultural and ontological aspects of water has elicited less discussion. The theme of variability provides a useful framework for thinking about water, and for understanding relationships between water, place, people and the non-human world. .
Citation Information
Leah M Gibbs. "Valuing Water: variability and the Lake Eyre Basin, central Australia"
Australian Geographer
Vol. 37 Iss. 1 (2006) p. 73 - 85
Available at: http://works.bepress.com/lgibbs/12/