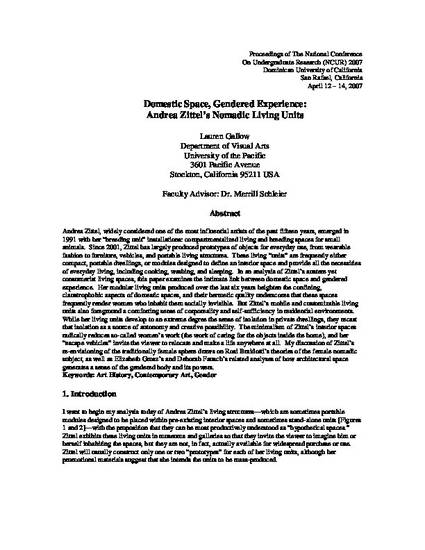 Presentation
Domestic Space, Gendered Experience: Andrea Zittel's Nomadic Living Units
National Conference on Undergraduate Research (2007)
Abstract
Andrea Zittel, widely considered one of the most influential artists of the past fifteen years, emerged in 1991 with her "breeding unit" installations: compartmentalized living and breeding spaces for small animals. Since 2001, Zittel has largely produced prototypes of objects for everyday use, from wearable fashion to furniture, vehicles, and portable living structures. These living "units" are frequently either compact, portable dwellings, or modules designed to define an interior space and provide all the necessities of everyday living, including cooking, washing, and sleeping. In an analysis of Zittel's austere yet consumerist living spaces, I examine the intimate link between domestic space and gendered experience. Her modular living units produced over the last six years heighten the confining, claustrophobic aspects of domestic spaces, and their hermetic quality underscores that these spaces frequently render women who inhabit them socially invisible. But Zittel's mobile and customizable living units also foreground a comforting sense of corporeality and self-sufficiency in residential environments. While her living units develop to an extreme degree the sense of isolation in private dwellings, they recast that isolation as a source of autonomy and creative possibility. The minimalism of Zittel's interior spaces radically reduces so-called women's work (the work of caring for the objects inside the home), and her "escape vehicles" invite the viewer to relocate and make a life anywhere at all. My discussion of Zittel's re-envisioning of the traditionally female sphere draws on Rosi Braidotti's theories of the female nomadic subject, as well as Elizabeth Grosz's and Deborah Fausch's related analyses of how architectural space generates a sense of the gendered body and its powers.
Publication Date
April, 2007
Citation Information
Lauren L. Gallow. "Domestic Space, Gendered Experience: Andrea Zittel's Nomadic Living Units"
National Conference on Undergraduate Research
(2007)
Available at: http://works.bepress.com/lgallow/2/