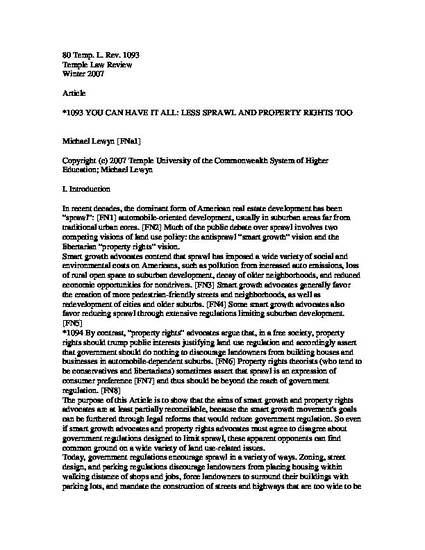 Article
YOU CAN HAVE IT ALL: LESS SPRAWL AND PROPERTY RIGHTS TOO
Temple Law Review (2007)
Abstract
The article describes two visions of suburban development, a "smart growth" vision which critiques automobile-dependent suburban sprawl, and a "property rights" vision which emphasizes individual freedom. The article then shows that these visions are to a great extent reconcilable, by discussing a variety of legal reforms which can both reduce suburban sprawl and enhance landowners' property rights. For example, if zoning laws were reformed to allow landowners to build more compact developments, landowners would obviously have a wider range of options (thus enhancing property rights) and more people could live within walking distance of jobs, shops and public transit (thus supporting the smart growth movement's interest in making society less automobile-dependent).
Keywords
sprawl,
zoning,
density,
parking,
land use
Publication Date
Winter 2007
Citation Information
Michael E Lewyn. "YOU CAN HAVE IT ALL: LESS SPRAWL AND PROPERTY RIGHTS TOO"
Temple Law Review
Vol. 80 (2007)
Available at: http://works.bepress.com/lewyn/41/