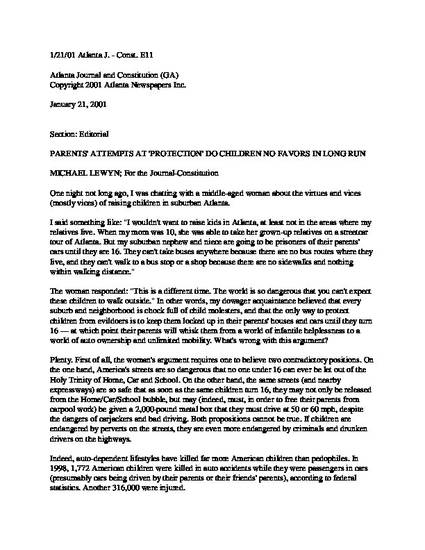 Popular Press
PARENTS' ATTEMPTS AT 'PROTECTION' DO CHILDREN NO FAVORS IN LONG RUN
Atlanta Journal-Constitution (2001)
Abstract
Some parents keep their children locked up inside Mommy's car and house until they learn to drive, fearing that their children will not be safe outside. But car accidents have killed far more children than pedophiles - a fact which suggest that the dangers of too little freedom may exceed the dangers of too much freedom.
Keywords
parents,
children,
transportation,
stranger danger,
urbanism
Publication Date
January 1, 2001
Citation Information
Michael E Lewyn. "PARENTS' ATTEMPTS AT 'PROTECTION' DO CHILDREN NO FAVORS IN LONG RUN"
Atlanta Journal-Constitution
Vol. 2001 (2001)
Available at: http://works.bepress.com/lewyn/13/