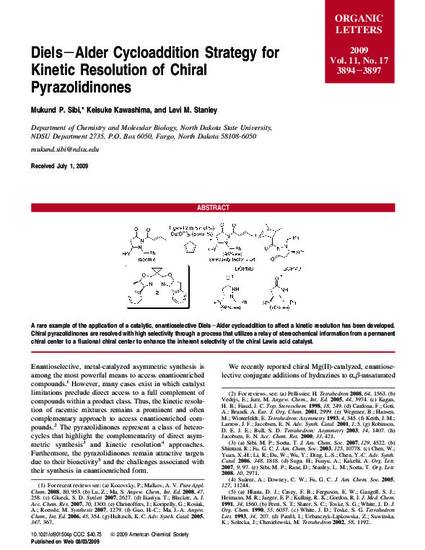 Article
Diels−Alder Cycloaddition Strategy for Kinetic Resolution of Chiral Pyrazolidinones
Organic Letters (2009)
Abstract
A rare example of the application of a catalytic, enantioselective Diels−Alder cycloaddition to affect a kinetic resolution has been developed. Chiral pyrazolidinones are resolved with high selectivity through a process that utilizes a relay of stereochemical information from a permanent chiral center to a fluxional chiral center to enhance the inherent selectivity of the chiral Lewis acid catalyst.
Publication Date
August, 2009
Citation Information
Mukund P. Sibi, Keisuke Kawashima and Levi M. Stanley. "Diels−Alder Cycloaddition Strategy for Kinetic Resolution of Chiral Pyrazolidinones"
Organic Letters
Vol. 11 Iss. 17 (2009)
Available at: http://works.bepress.com/levi_stanley/16/