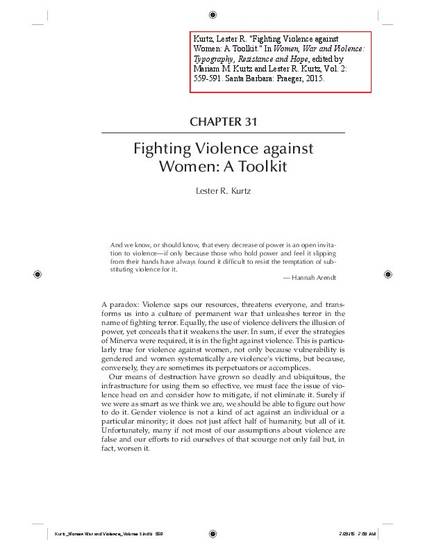 Contribution to Book
Fighting Violence against Women: A Toolkit
Women, War and Violence: Topography, Resistance, and Hope. 2 volumes (2015)
Abstract
Fighting violence against women is st and foremost focused on changing the means of conflict, how we carry it out from the interpersonal to the transnational levels, so that inevitable conflicts of interest are resolved without violence. Individual acts of violence against women are carried out by individuals—especially men—but they do not act by themselves. The scripts of a culture and the boundaries of a social structure shape how perpetrators act; they legitimate violence against women and provide violent methods of con ict that substitute for power, on the one hand, and empathy on the other.
The goal of this chapter is to provide a set of tools for engaging in an analysis of how conflicts lead to violence, their social psychological, institutional, and symbolic dimensions, and how those conflicts might be transformed. It also proposes tools for mobilizing nonviolent resistance to those structures and processes that nurture and legitimate violence against women. 
Keywords
women,
violence,
nonviolence,
violence against women,
public sociology,
political violence,
sexual assault,
gender,
gender violence
Editor
Mariam M. Kurtz and Lester R. Kurtz
Citation Information
Kurtz, Lester R. "Fighting Violence against Women: A Toolkit." In Women, War and Violence: Typography, Resistance and Hope, edited by Mariam M. Kurtz and Lester R. Kurtz, Vol. 2: 559-591. Santa Barbara: Praeger, 2015.