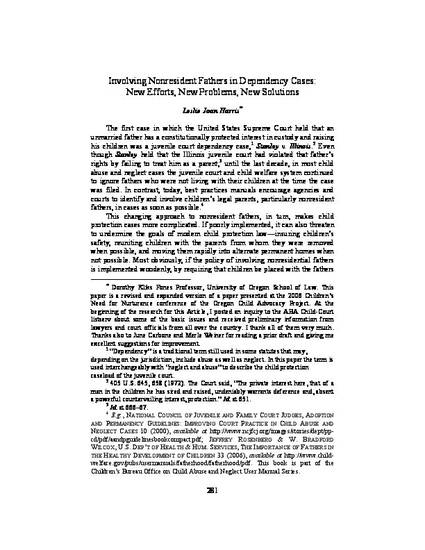 Article
Involving Nonresident Fathers in Dependency Cases: New Efforts, New Problems, New Solutions
Journal of Law & Family Studies (2007)
Abstract
In contrast to traditional practice, today juvenile courts and child welfare agencies attempt to identify and involve children's fathers in cases as soon as possible. This changing approach to nonresident fathers, in turn, makes child protection cases more complicated. If poorly implemented, it can also threaten to undermine the goals of modern child protection law—insuring children's safety, reuniting children with the parents from whom they were removed when possible, and moving them rapidly into alternate permanent homes when not possible. Most obviously, if the policy of involving nonresidential fathers is implemented woodenly, by requiring that children be placed with the fathers at the outset of the case when little is known about them, the children may be endangered. Less dramatically, efforts to work with fathers can result in children remaining in the system longer. And working with fathers can undermine, or even short-circuit, efforts to reunite children with the mothers from whom they were taken, raising problems of defining children's best interests as well as fairness to both parents in what amounts to state-generated custody contests. This article describes the changing practices and the reasons for them, explores the problems that may be created, and proposes solutions.
Keywords
fathers' rights,
juvenile courts,
child abuse and neglect,
paternity
Citation Information
Leslie J. Harris. "Involving Nonresident Fathers in Dependency Cases: New Efforts, New Problems, New Solutions"
Journal of Law & Family Studies
Vol. 9 Iss. 2 (2007)
Available at: http://works.bepress.com/leslie_harris/16/