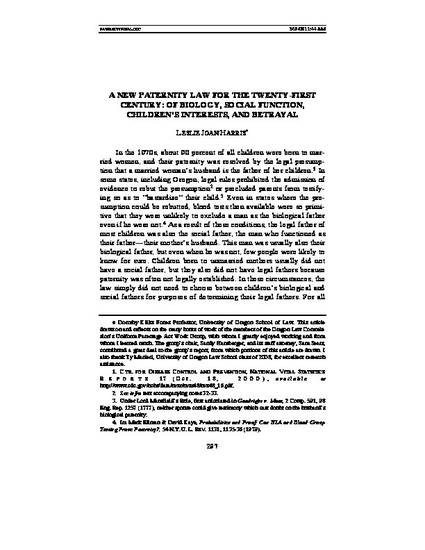 Article
A New Paternity Law for the Twenty-First Century: Of Biology, Social Function, Children's Interests and Betrayal
Willamette Law Review (2007)
Abstract
In 2007 an Oregon law reform commission charged a large work group of more than 20 attorneys, child support and child welfare agency administrators, judges, and lobbyists with proposing a comprehensive revision of the state's paternity laws, the first in more than 30 years. The group began with the 2002 Uniform Parentage Act as a model but quickly abandoned it, finally settling on a proposal that was enacted into law with few revisions. This article describes the issues and compromises that underlie the law, particularly clashing visions of the appropriate criteria for legal fatherhood, tensions between the interests of adults and children, and the role of judicial discretion in resolving these issues.
Citation Information
Leslie J. Harris. "A New Paternity Law for the Twenty-First Century: Of Biology, Social Function, Children's Interests and Betrayal"
Willamette Law Review
Vol. 44 Iss. 2 (2007)
Available at: http://works.bepress.com/leslie_harris/15/