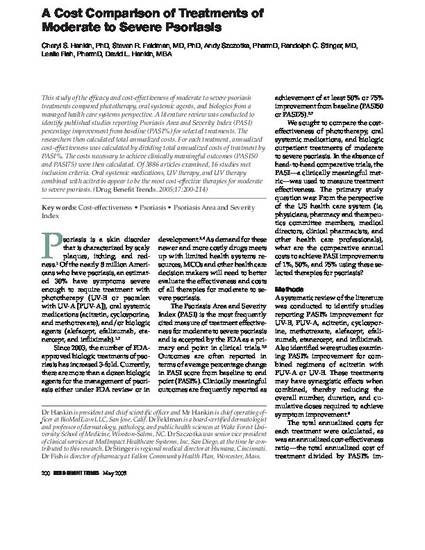 Article
A Cost Comparison of Treatments of Moderate to Severe Psoriasis
Meyers Primary Care Institute Publications and Presentations
UMMS Affiliation
Meyers Primary Care Institute
Medical Subject Headings
Psoriasis; Costs and Cost Analysis
Abstract
This study of the efficacy and cost-effectiveness of moderate to severe psoriasis treatments compared phototherapy, oral systemic agents, and biologics from a managed health care systems perspective. A literature review was conducted to identify published studies reporting Psoriasis Area and Severity Index (PASI) percentage improvement from baseline (PASI%) for selected treatments. The researchers then calculated total annualized costs. For each treatment, annualized cost-effectiveness was calculated by dividing total annualized costs of treatment by PASI%. The costs necessary to achieve clinically meaningful outcomes (PASI50 and PASI75) were then calculated. Of 3886 articles examined, 16 studies met inclusion criteria. Oral systemic medications, UV therapy, and UV therapy combined with acitretin appear to be the most cost-effective therapies for moderate to severe psoriasis.
Rights and Permissions
Citation: Hankin C, Feldman S, Szczotka A, Stinger R, Fish L, Hankin D. A cost comparison of treatments of moderate to severe psoriasis. Drug Benefit Trends 2005;17:200-214.
Link to article archive on publisher's website
Citation Information
Cheryl S. Hankin, Steven R. Feldman, Andy Szczotka, Randolph C. Stinger, et al.. "A Cost Comparison of Treatments of Moderate to Severe Psoriasis" Vol. 17 (2005)
Available at: http://works.bepress.com/leslie_fish/13/