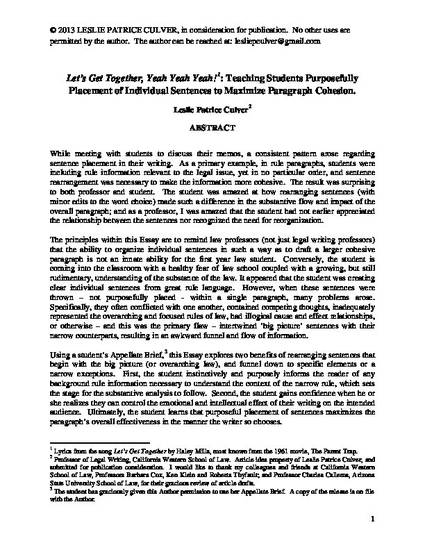 Unpublished Paper
Let's Get Together, Yeah Yeah Yeah! : Teaching Students Purposefully Placement of Individual Sentences to Maximize Paragraph Cohesion.
ExpressO (2014)
Abstract
ABSTRACT While meeting with students to discuss their memos, a consistent pattern arose regarding sentence placement in their writing. As a primary example, in rule paragraphs, students were including rule information relevant to the legal issue, yet in no particular order, and sentence rearrangement was necessary to make the information more cohesive. The result was surprising to both professor and student. The student was amazed at how rearranging sentences (with minor edits to the word choice) made such a difference in the substantive flow and impact of the overall paragraph; and as a professor, I was amazed that the student had not earlier appreciated the relationship between the sentences nor recognized the need for reorganization. The principles within this Essay are to remind law professors (not just legal writing professors) that the ability to organize individual sentences in such a way as to draft a larger cohesive paragraph is not an innate ability for the first year law student. Conversely, the student is coming into the classroom with a healthy fear of law school coupled with a growing, but still rudimentary, understanding of the substance of the law. It appeared that the student was creating clear individual sentences from great rule language. However, when these sentences were thrown – not purposefully placed - within a single paragraph, many problems arose. Specifically, they often conflicted with one another, contained competing thoughts, inadequately represented the overarching and focused rules of law, had illogical cause and effect relationships, or otherwise – and this was the primary flaw – intertwined 'big picture' sentences with their narrow counterparts, resulting in an awkward funnel and flow of information. Using a student's Appellate Brief,[1] this Essay explores two benefits of rearranging sentences that begin with the big picture (or overarching law), and funnel down to specific elements or a narrow exceptions. First, the student instinctively and purposely informs the reader of any background rule information necessary to understand the context of the narrow rule, which sets the stage for the substantive analysis to follow. Second, the student gains confidence when he or she realizes they can control the emotional and intellectual effect of their writing on the intended audience. Ultimately, the student learns that purposeful placement of sentences maximizes the paragraph's overall effectiveness in the manner the writer so chooses. [1] The student has graciously given this Author permission to use her Appellate Brief. A copy of the release is on file with the Author.
Keywords
legal writing,
teaching legal writing,
sentence structure,
legal analysis
Publication Date
March 27, 2014
Citation Information
Leslie P Culver. "Let's Get Together, Yeah Yeah Yeah! : Teaching Students Purposefully Placement of Individual Sentences to Maximize Paragraph Cohesion."
ExpressO
(2014)
Available at: http://works.bepress.com/leslie_culver/1/