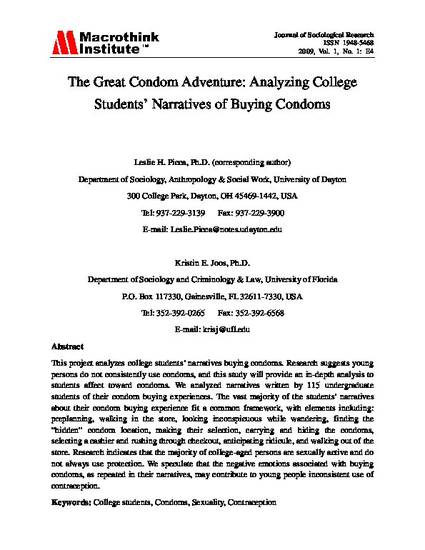 Article
The Great Condom Adventure: Analyzing College Students' Narratives of Buying Condoms
Journal of Sociological Research
Publication Date
1-1-2009
Abstract
This project analyzes college students' narratives buying condoms. Research suggests young persons do not consistently use condoms, and this study will provide an in-depth analysis to students affect toward condoms. We analyzed narratives written by 115 undergraduate students of their condom buying experiences. The vast majority of the students' narratives about their condom buying experience fit a common framework, with elements including: preplanning, walking in the store, looking inconspicuous while wandering, finding the "hidden" condom location, making their selection, carrying and hiding the condoms, selecting a cashier and rushing through checkout, anticipating ridicule, and walking out of the store. Research indicates that the majority of college-aged persons are sexually active and do not always use protection. We speculate that the negative emotions associated with buying condoms, as repeated in their narratives, may contribute to young people inconsistent use of contraception.
Document Version
Published Version
Copyright
Copyright © 2009, Leslie Picca and Kristin Joos
Publisher
Macrothink Institute
Citation Information
Leslie H. Picca and Kristin E. Joos. "The Great Condom Adventure: Analyzing College Students' Narratives of Buying Condoms"
Journal of Sociological Research
Vol. 1 Iss. 1 (2009)
Available at: http://works.bepress.com/leslie-picca/5/