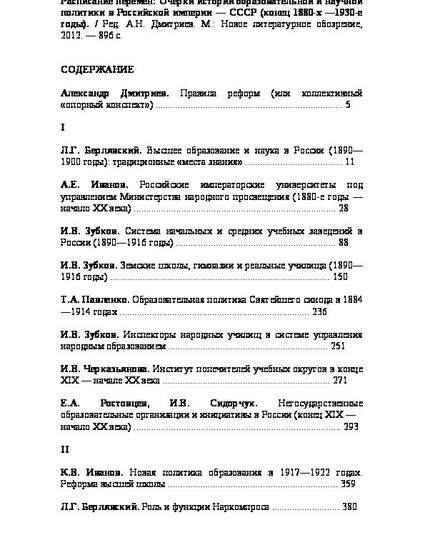 Contribution to Book
Роль и функции Наркомпроса
Расписание перемен: Очерки истории образовательной и научной политики в Российской империи — СССР (конец 1880-х —1930-е годы). (2012)
Abstract
During the Civil war were designated considerable number of the points of view on problems of interaction of the power and a science, therefore it is represented too to general stated in the late eighties XX cent., at the very beginning of development of a new most extensive material on science stories, a conclusion that in the first decade after 1917 the basis of mutual relations of ideology and science in the USSR was the idea of a "proletarian" science by A.A.Bogdanov. Thus the doctrine of "proletarian science" was developed not only by the leaders of "Proletkult", but also almost all theorists and the politicians standing on positions of world revolution and «military communism». Alternatively this concept representatives of former academic circles (for example, С.Ф. Oldenburg, I.P.Pavlov, V.I.Vernadsky, etc.) defended ideas of preserving the science as cultural heritage in any political conditions existing in Russia. Meanwhile readiness of the new power for considerable and scale investments in research sphere, adherence of Bolsheviks to the radical purposes and education experts possibility of the future cooperation and the compromise of socialist management and a leading cohort have caused «people of knowledge» already in 1920th years.
Keywords
Civil war,
power,
science,
Proletkult,
socialist management
Publisher
Новое литературное обозрение
Citation Information
Leonid G. Berlyavskiy. "Роль и функции Наркомпроса" Москва
Расписание перемен: Очерки истории образовательной и научной политики в Российской империи — СССР (конец 1880-х —1930-е годы).
(2012)
Available at: http://works.bepress.com/leonid_berlyavskiy/50/