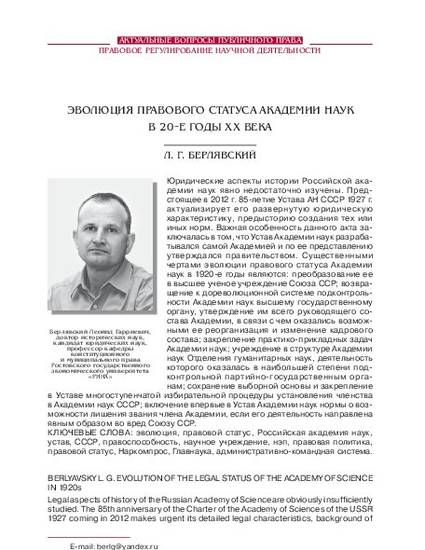 Article
Эволюция правового статуса Академии наук в 20-е годы XX века
Известия высших учебных заведений. Правоведение (2012)
Abstract
Legal aspects of history of the Russian Academy of Science are obviously insufficiently studied. The 85th anniversary of the Charter of the Academy of Sciences of the USSR 1927 coming in 2012 makes urgent its detailed legal characteristics, background of fact that the Charter of the Academy of Sciences was developed by the Academy itself and was approved by the Government on its representation. The essential features of evolution of the Academy of Sciences legal status in 1920s are as follows: its transformation into the higher scientific organisation of the USSR; returning to the pre-revolutionary system of its submission to the control of the higher state authority, appointing all administrative board of the Academy and, thus, enabling its reorganisation and change of its personnel; fixation of practical and applied tasks of the Academy of Sciences; establishing the Department of the Humanities in the structure of the Academy of Sciences whose activity was under the greatest control of the party-state structures; preserving the elective basis and fixing in the Charter the multistage electoral procedure of becoming a member of the Academy of Sciences of the USSR; inclusion in the Charter of the Academy of Sciences for the first time the provision regarding the possibility to deprive an Academy member of his/her title if his/her activity is directed evidently to the detriment of the USSR.
Keywords
еvolution,
legal status,
Russian Academy of Sciences,
Charter,
USSR,
legal personality,
scientific organisation,
new economic policy (NEP),
legal policy,
legal status,
People's commissariat for education,
Glavnauka (Main Directorate of Scientific,
Scientific and Artistic as well as Museum Institutions),
administrative and command system
Citation Information
Leonid G. Berlyavskiy. "Эволюция правового статуса Академии наук в 20-е годы XX века"
Известия высших учебных заведений. Правоведение
Vol. 2 (2012)
Available at: http://works.bepress.com/leonid_berlyavskiy/3/