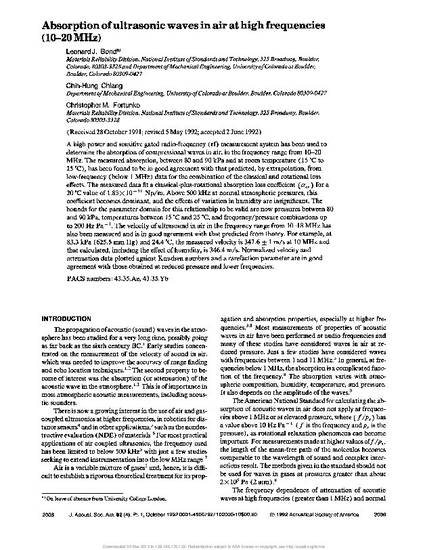 Article
Absorption of ultrasonic waves in air at high frequencies (10–20 MHz)
Journal of the Acoustical Society of America (1992)
Abstract
A high power and sensitive gated radio‐frequency (rf) measurement system has been used to determine the absorption of compressional waves in air, in the frequency range from 10–20 MHz. The measured absorption, between 80 and 90 kPa and at room temperature (15 °C to 25 °C), has been found to be in good agreement with that predicted, by extrapolation, from low‐frequency (below 1 MHz) data for the combination of the classical and rotational loss effects. The measured data fit a classical‐plus‐rotational absorption loss coefficient (αcr) for a 20 °C value of 1.83×10−11 Np/m. Above 500 kHz at normal atmospheric pressures, this coefficient becomes dominant, and the effects of variation in humidity are insignificant. The bounds for the parameter domain for this relationship to be valid are now pressures between 80 and 90 kPa, temperatures between 15 °C and 25 °C, and frequency/pressure combinations up to 200 Hz Pa−1. The velocity of ultrasound in air in the frequency range from 10–18 MHz has also been measured and is in good agreement with that predicted from theory. For example, at 83.3 kPa (625.5 mm Hg) and 24.4 °C, the measured velocity is 347.6±1 m/s at 10 MHz and that calculated, including the effect of humidity, is 346.4 m/s. Normalized velocity and attenuation data plotted against Knudsen numbers and a rarefaction parameter are in good agreement with those obtained at reduced pressure and lower frequencies.
Citation Information
Leonard J. Bond, Chih-Hung Chiang and Christopher M. Fortunko. "Absorption of ultrasonic waves in air at high frequencies (10–20 MHz)"
Journal of the Acoustical Society of America
Vol. 92 Iss. 4 (1992)
Available at: http://works.bepress.com/leonard_bond/6/