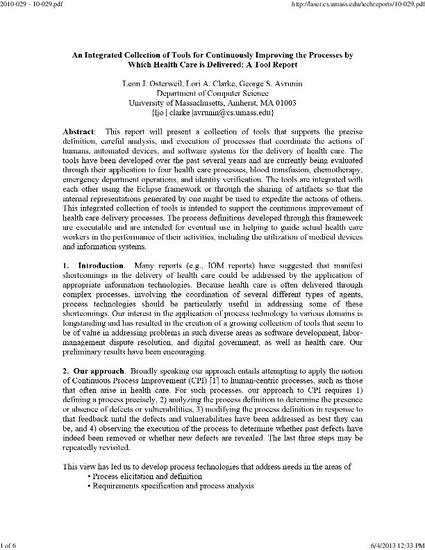 Article
An Integrated Collection of Tools for Continuously Improving the Processes by Which Health Care Is Delivered: A Tool Report
Business Process Management Workshops, 2009 (2010)
Abstract
With the availability of powerful computational and commu- nication systems, scientists now readily access large, complicated derived datasets and build on those results to produce, through further processing, yet other derived datasets of interest. The scientific processes used to create such datasets must be clearly documented so that scientists can evaluate their soundness, reproduce the results, and build upon them in responsible and appropriate ways. Here, we present the concept of an analytic web, which defines the scientific processes employed and details the exact appli- cation of those processes in creating derived datasets. The work described here is similar to work often referred to as "scientific workflow," but em- phasizes the need for a semantically rich, rigorously defined process defi- nition language. We illustrate the information that comprises an analytic web for a scientific process that measures and analyzes the flux of water through a forested watershed. This is a complex and demanding scientific process that illustrates the benefits of using a semantically rich, executable language for defining processes and for supporting automatic creation of process provenance metadata.
Publication Date
January 1, 2010
Citation Information
LJ Osterweil, LA Clarke and GS Avrunin. "An Integrated Collection of Tools for Continuously Improving the Processes by Which Health Care Is Delivered: A Tool Report"
Business Process Management Workshops, 2009
Vol. 43 (2010)
Available at: http://works.bepress.com/leon_osterweil/25/