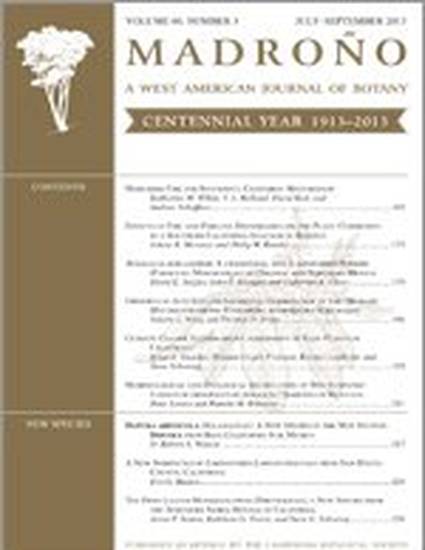 Article
Woody Plants of Utah: A Field Guide with Identification Keys to Native and Naturalized Trees, Shrubs, Cacti, and Vines
Madrono (2013)
Abstract
This is a handsome volume with dichotomous keys, up-to-date taxonomy, many excellent photographs, semitechnical descriptions, habitat and range statements, specimen-based range maps, and anecdotal information including derivations of scientific names. "Woody" is defined broadly for this work, including not just the trees, shrubs, and woody vines that traditionally would be so treated, but also various subshrubs, more or less suffrutescent herbs, and succulents. Utah's cacti, including small, spherical taxa only a few cm tall, are all included. The result is a treatment of 152 genera, 385 species, and 446 taxa assigned to 51 families.
DOI
https://doi.org/10.3120/0024-9637-60.3.255
Citation Information
Leila M Shultz. "Woody Plants of Utah: A Field Guide with Identification Keys to Native and Naturalized Trees, Shrubs, Cacti, and Vines"
Madrono
Vol. 60 Iss. 3 (2013) p. 255 - 256
Available at: http://works.bepress.com/leila_shultz/94/