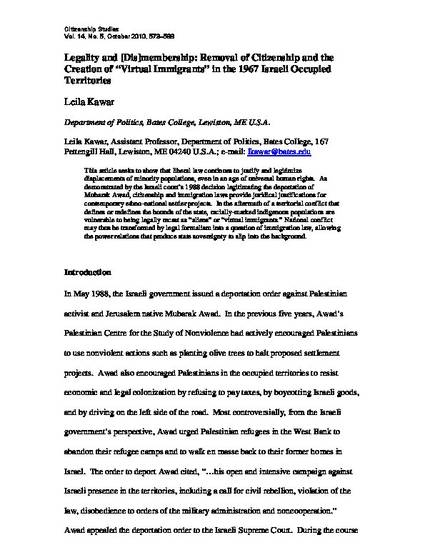 Article
Legality and [Dis]membership: Removal of Citizenship and the Creation of 'Virtual Immigrants'
Citizenship Studies
Abstract
This article seeks to show that liberal law continues to justify and legitimize displacements of minority populations, even in an age of universal human rights. As demonstrated by the Israeli court's 1988 decision legitimating the deportation of Mubarak Awad, citizenship and immigration laws provide juridical justifications for contemporary ethno-national settler projects. In the aftermath of a territorial conflict that defines or redefines the bounds of the state, racially-marked indigenous populations are vulnerable to being legally recast as "aliens" or "virtual immigrants." National conflict may thus be transformed by legal formalism into a question of immigration law, allowing the power relations that produce state sovereignty to slip into the background.
Publication Date
10-1-2010
Publisher
Taylor & Francis
DOI
10.1080/13621025.2010.506716
Citation Information
Leila Kawar. "Legality and [Dis]membership: Removal of Citizenship and the Creation of 'Virtual Immigrants'"
Citizenship Studies
Vol. 14 Iss. 5 (2010) p. 573 - 588
Available at: http://works.bepress.com/leila_kawar/8/