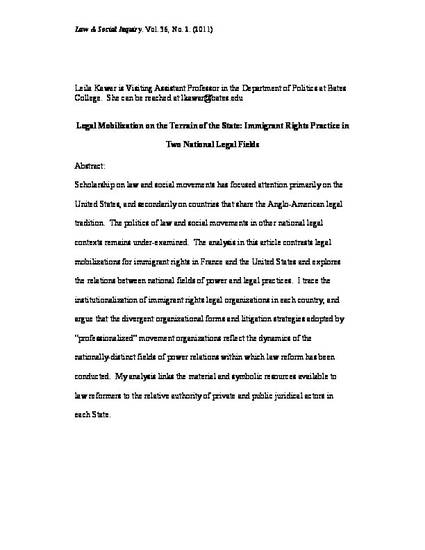 Article
Legal Mobilization on the Terrain of the State: Immigrant Rights Practice in Two National Legal Fields
Law & Social Inquiry
Abstract
Scholarship on law and social movements has focused attention primarily on the United States, and secondarily on countries that share the Anglo-American legal tradition. The politics of law and social movements in other national legal contexts remains under-examined. The analysis in this article contrasts legal mobilizations for immigrant rights in France and the United States and explores the relations between national fields of power and legal practices. I trace the institutionalization of immigrant rights legal organizations in each country, and argue that the divergent organizational forms and litigation strategies adopted by "professionalized" movement organizations reflect the dynamics of the nationally-distinct fields of power relations within which law reform has been conducted. My analysis links the material and symbolic resources available to law reformers to the relative authority of private and public juridical actors in each State.
Publication Date
4-1-2011
DOI
10.1111/j.1747-4469.2011.01235.x
Citation Information
Leila Kawar. "Legal Mobilization on the Terrain of the State: Immigrant Rights Practice in Two National Legal Fields"
Law & Social Inquiry
Vol. 36 Iss. 2 (2011) p. 354 - 387
Available at: http://works.bepress.com/leila_kawar/4/