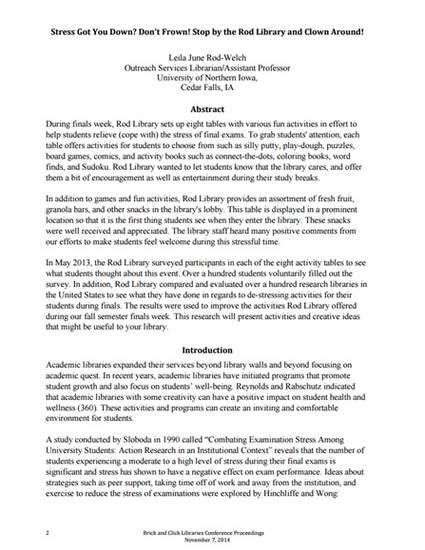 Presentation
Stress Got You Down? Don't Frown! Stop by the Rod Library and Clown Around!
Brick & Click An Academic Library Symposium (2014)
Abstract
During finals week, Rod Library sets up eight tables with various fun activities in effort to help students relieve (cope with) the stress of final exams. To grab students' attention, each table offers activities for students to choose from such as silly putty, play-dough, puzzles, board games, comics, and activity books such as connect-the-dots, coloring books, word finds, and Sudoku. Rod Library wanted to let students know that the library cares, and offer them a bit of encouragement as well as entertainment during their study breaks. In addition to games and fun activities, Rod Library provides an assortment of fresh fruit, granola bars, and other snacks in the library's lobby. This table is displayed in a prominent location so that it is the first thing students see when they enter the library. These snacks were well received and appreciated. The library staff heard many positive comments from our efforts to make students feel welcome during this stressful time. In May 2013, the Rod Library surveyed participants in each of the eight activity tables to see what students thought about this event. Over a hundred students voluntarily filled out the survey. In addition, Rod Library compared and evaluated over a hundred research libraries in the United States to see what they have done in regards to de-stressing activities for their students during finals. The results were used to improve the activities Rod Library offered during our fall semester finals week. This research will present activities and creative ideas that might be useful to your library
Publication Date
November, 2014
Citation Information
Leila J. Rod-Welch. "Stress Got You Down? Don't Frown! Stop by the Rod Library and Clown Around!"
Brick & Click An Academic Library Symposium
(2014)
Available at: http://works.bepress.com/leila-rod-welch/3/