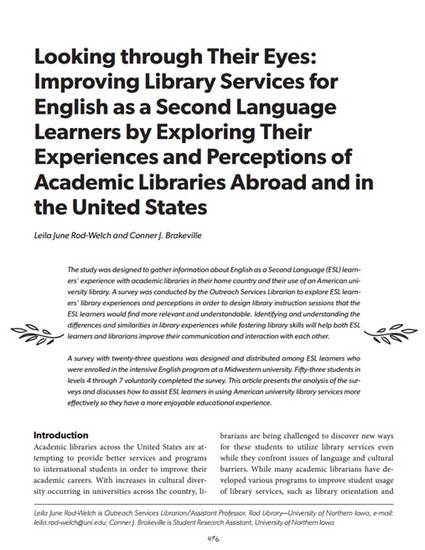 Article
Looking through Their Eyes: Improving Library Services for English as a Second Language Learners by Exploring Their Experiences and Perceptions of Academic Libraries Abroad and in the United States
The Proceedings of the ACRL 2015 Conference (2015)
Abstract
The study was designed to gather information about English as a Second Language (ESL) learners' experience with academic libraries in their home country and their use of an American university library. A survey was conducted by the Outreach Services Librarian to explore ESL learners' library experiences and perceptions in order to design library instruction sessions that the ESL learners would find more relevant and understandable. Identifying and understanding the differences and similarities in library experiences while fostering library skills will help both ESL learners and librarians improve their communication and interaction with each other. A survey with twenty-three questions was designed and distributed among ESL learners who were enrolled in the intensive English program at a Midwestern university. Fifty-three students in levels 4 through 7 voluntarily completed the survey. This article presents the analysis of the surveys and discusses how to assist ESL learners in using American university library services more effectively so they have a more enjoyable educational experience.
Publication Date
March, 2015
Citation Information
Leila J. Rod-Welch and Conner J. Brakeville. "Looking through Their Eyes: Improving Library Services for English as a Second Language Learners by Exploring Their Experiences and Perceptions of Academic Libraries Abroad and in the United States"
The Proceedings of the ACRL 2015 Conference
(2015)
Available at: http://works.bepress.com/leila-rod-welch/2/