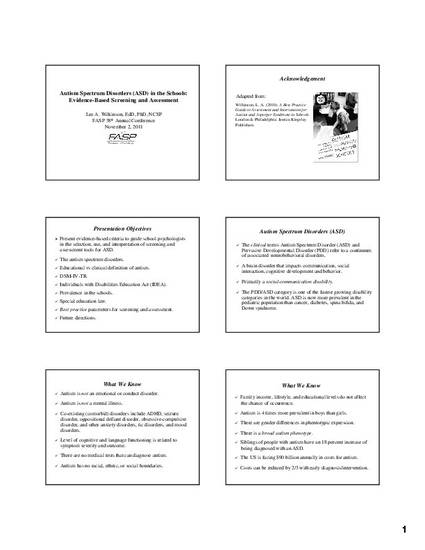 Presentation
Florida Association of School Psychologists 38th Annual Conference
Florida Association of School Psychologists (2011)
Abstract
Autism Spectrum Disorders (ASD) in Schools: Evidence-Based Screening and Assessment
Epidemiological studies indicate a progressively rising prevalence trend for ASD over the past decade. Yet, compared to population estimates, identification rates have not kept pace in our schools. Many children with ASD are overlooked, misdiagnosed with another psychiatric condition, or present with coexisting psychiatric disorders such as depression and anxiety. School psychologists must be prepared to recognize the presence of risk factors and/or early warning signs of ASD, engage in case finding, and be familiar with screening and assessment tools in order to ensure that students are being identified and provided with the appropriate programs and services The objective of this workshop is to provide school psychologists with a practical and scientifically based approach to the screening and assessment for school-age children with autism spectrum disorders. Learning Objectives include the following:
1. Identify the characteristics of the most prevalent types of ASD in schools.
2. Understand the differences between a dimensional and categorical perspective of ASD.
3. .Differentiate between DSM diagnosis and IDEA classification schemes.
4. Identify evidence-based assessment instruments available to school practitioners.
5. Use a multi-tier assessment strategy to screen students with ASD.
6. Outline the components of a comprehensive developmental assessment for ASD.
7. Identify coexisting conditions commonly found in students with ASD.
8. Describe the key components of educational programs/services.
Keywords
FASP,
Florida Association of School Psychologists,
ASD,
Autism,
Assessment,
Intervention,
Best Practice,
Evidence-Based Practice
Citation Information
Lee A Wilkinson. "Florida Association of School Psychologists 38th Annual Conference"
Florida Association of School Psychologists
(2011)
Available at: http://works.bepress.com/lee_wilkinson/31/