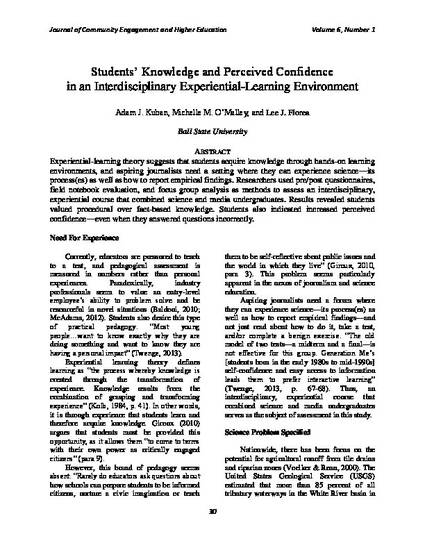 Article
Students' Knowledge and Perceived Confidence in an Interdisciplinary Experiential-Learning Environment
Journal of Community Engagement and Higher Education (2015)
Abstract
Experiential-learning theory suggests that students acquire knowledge through hands-on learning environments, and aspiring journalists need a setting where they can experience science — its process(es) as well as how to report empirical findings. Researchers utilized pre/post questionnaires, field-notebook evaluation, and focus-group analysis as methods to assess an interdisciplinary, experiential course that combined science and media undergraduates. Results revealed students valued procedural over fact-based knowledge. Students also indicated increased perceived confidence—even when they answered questions incorrectly.
Keywords
Immersive learning,
problem-based learning,
experiential learning,
water quality
Publication Date
Spring April 2, 2015
Citation Information
Lee J. Florea, Adam J. Kuban and Michelle O'Malley. "Students' Knowledge and Perceived Confidence in an Interdisciplinary Experiential-Learning Environment"
Journal of Community Engagement and Higher Education
Vol. 6 Iss. 2 (2015)
Available at: http://works.bepress.com/lee_florea/51/