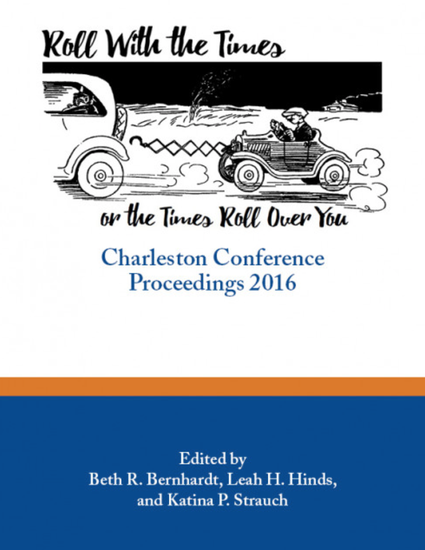 Contribution to Book
The Librarian's Survival Guide to the "Big Deal": Tools for Unbundling
Proceedings of the Charleston Library Conference (2016)
Abstract
At Western University, like many other schools, journal package "big deals" (large, bundled collections of ejournals from the same publisher, purchased at a discount) have been seen as beneficial to the collection based on high discounts and low cost per use. When the Canadian loonie fell to 67 cents on the U.S. dollar in January 2016, it created unexpected financial challenges for collections management. We now had to consider new ways to find cost savings by canceling or unbundling resources, and big deals became a potential target. In evaluating these packages, we looked beyond cost per use, building on work done by the University of Montreal. This paper summarizes the iterative process Western University developed to evaluate and potentially unbundle less valuable big deals. We outline the additional criteria we considered (overlap, current year use, perceived value by faculty members, citation analysis of where our researchers published, and impact factor) and how we made data-driven decisions for unbundling.
Keywords
collection analysis,
big deal,
journal packages
Publisher
Purdue University Press
DOI
h p://dx.doi.org/10.5703/1288284316444
Citation Information
Leanne Olson, Samuel Cassady, Alie Visser and Doug Lynch. "The Librarian's Survival Guide to the "Big Deal": Tools for Unbundling"
Proceedings of the Charleston Library Conference
(2016)
Available at: http://works.bepress.com/leanne-olson/6/