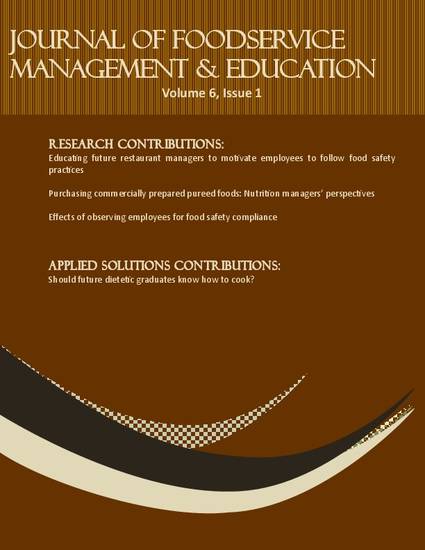 Article
Volume-6-Issue-1.pdf
JFME (2012)
Abstract
SHOULD FUTURE DIETETIC GRADUATES KNOW HOW TO COOK?
ABSTRACT
Dietetic educators have students in their classrooms that do not know how to cook.  The many causes of this non-cooking society are discussed.  Challenges facing educators include how to address this problem efficiently, effectively, and in a manner that is not cost prohibitive to the student or the university.  This article looks at the importance of cooking skills in a Registered Dietitian's career and the American Dietetic Association's emphasis on these skills regardless of the dietitian's area of practice.  Various solutions are presented for the dietetic educator.
Keywords
Dietetic Student; Cooking; College Educator; Registered Dietitian
Citation Information
Leann Schaeffer and Brian Miller. "Volume-6-Issue-1.pdf"
JFME
Vol. 5 Iss. 1 (2012) p. 25 - 30
Available at: http://works.bepress.com/leann_schaeffer/3/