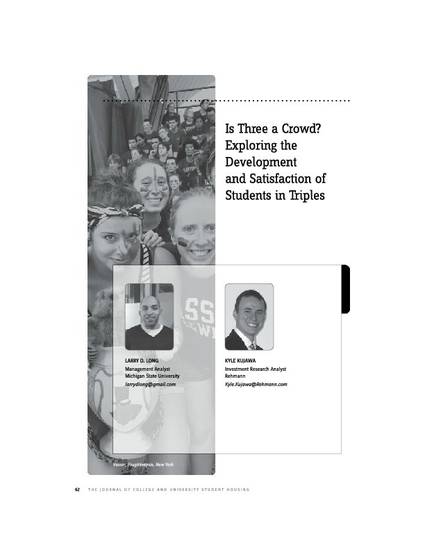 Article
Is Three a Crowd? Exploring the Development and Satisfaction of Students in Triples
The Journal of College and University Student Housing (2015)
Abstract
Tripling, the assignment of a third resident to a room designed for two, is a common practice at many colleges and universities across the United States. Most of the research on tripling was conducted three or four decades ago, and research exploring how living in a triple affects the educational gains and satisfaction of college students is limited. The researchers compared the residential experience of residence hall residents who lived in standard double rooms to the experience of residents who lived in triples. The results revealed the residential experience of students in triples was comparable to the experience of students in doubles. Differences emerged once we focused on the doubled students, dyads, and isolates separately. Tripling does not seem to have a negative effect on the residential experience of today's college student.
Keywords
College students,
housing,
residence life,
triples,
crowding
Publication Date
Spring 2015
Citation Information
Long, L. D. & Kujawa, K. (2015). Is three a crowd? Exploring the development and satisfaction of students in triples.
The Journal of College and University Student Housing, 41
(2), 62-77. Retrieved from
http://works.bepress.com/ldlong/48