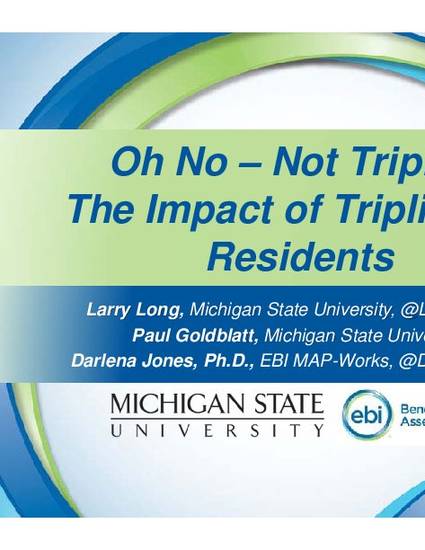 Presentation
Oh No – Not Triples! The Impact of Tripling on Residents
ACUHO-I (2013)
Abstract
For a resident, "tripling up" is synonymous with crowded rooms, little personal space, and diminished services. But it can also mean more social connections. Today, a lot of campuses are experiencing enrollment growths making on-campus living crowded and tripling necessary. In this presentation, we discuss the impact of tripling on residents by presenting evidence at both the national and institutional levels highlighting areas of success and areas of challenge for residents in triples.
Keywords
Residence halls,
triples,
over assignment,
college students
Publication Date
June 16, 2013
Citation Information
Long, L. D., Goldblatt, P., & Jones, D. (June 16, 2013).
Oh no – Not triples! The impact of tripling on residents
. Presented at the ACUHO-I annual convention, Minneapolis, MN. Retrieved from
http://works.bepress.com/ldlong/35