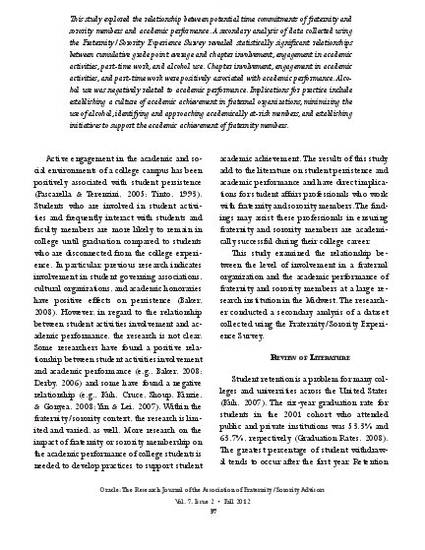 Article
A multivariate analysis of the relationship between undergraduate fraternity/sorority involvement and academic performance
Oracle: The Research Journal of the Association of Fraternity/Sorority Advisors (2012)
Abstract
This study explored the relationship between potential time commitments of fraternity and sorority members and academic performance. A secondary analysis of data collected using the Fraternity/Sorority Experience Survey revealed statistically significant relationships between cumulative grade point average and chapter involvement, engagement in academic activities, part-time work, and alcohol use. Chapter involvement, engagement in academic activities, and part-time work were positively associated with academic performance. Alcohol use was negatively related to academic performance. Implications for practice include establishing a culture of academic achievement in fraternal organizations, minimizing the use of alcohol, identifying and approaching academically at-risk members, and establishing initiatives to support the academic achievement of fraternity members.
Keywords
Fraternity,
Sorority,
Involvement,
Academic Performance,
GPA,
Leadership,
Alcohol use,
Work,
Studying
Publication Date
Fall 2012
Citation Information
Long, L. D. (2012). A multivariate analysis of the relationship between undergraduate fraternity/sorority involvement and academic performance.
Oracle: The Research Journal of the Association of Fraternity/Sorority Advisors, 7
(2), 37-48.