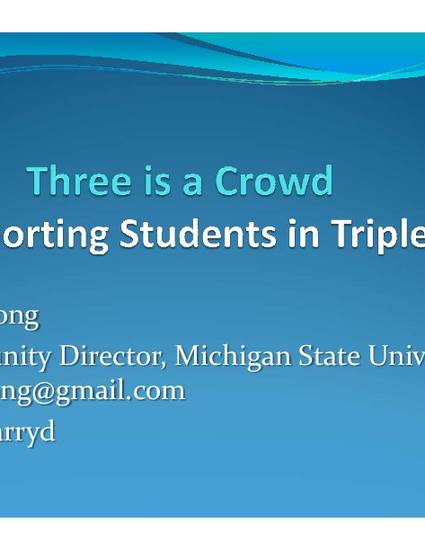 Presentation
Three is a Crowd: Supporting Students in Triples
GLACUHO annual conference (2012)
Abstract
High residential retention and a high first-year student enrollment might create a situation where more students wish to live on-campus than space permits. Some institutions choose to address this problem through tripling, the assignment of a third resident to a room designated as a double. Learn how one institution implemented triples and what assessment efforts showed about the resident experience. As a result of this program, participants will be able to describe trends in the extant literature on triples, identify strategies for reducing the negative effects of living in a triple, and apply interventions to their own residential system.
Keywords
Living Environment,
Triples,
Crowding,
Residence Halls
Publication Date
November 6, 2012
Citation Information
Long, L. D. (2012, November 6).
Three is a crowd: Supporting students in triples
. Presented at the GLACUHO annual conference, Columbus, OH. Retrieved from:
http://works.bepress.com/ldlong/28/