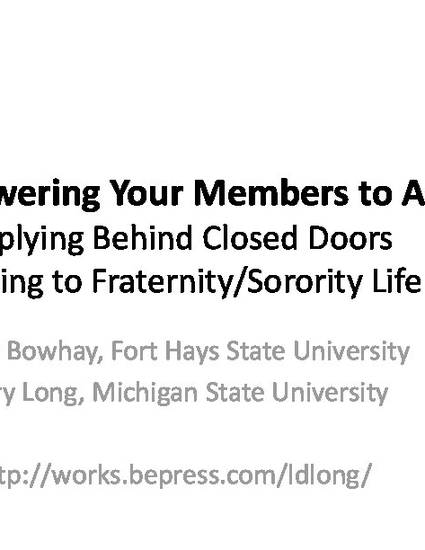 Presentation
Empowering Your Members to Act: Applying Behind Closed Doors Training to Fraternity/Sorority Life
Association of Fraternity/Sorority Advisors annual meeting (2012)
Abstract
When a crisis occurs, first reactions can be critical in ensuring a successful resolution. Behind Closed Doors is a program used by many housing professionals to expose staff to potential situations they might face. Students learn best by doing and adoption of BCD in a fraternal setting can aid in the handling of alcohol abuse, domestic disputes, fires, and crisis situations. Participants will be equipped with the necessary knowledge, tools, and resources to incorporate BCD into their community or organization.
Keywords
Behind Closed Doors,
Fraternity,
Sorority,
Risk Management,
Training
Publication Date
November 30, 2012
Citation Information
Long, L. D., & Bowhay, V. (2012, November 30).
Empowering your members to act: Applying Behind Closed Doors training to fraternity/sorority life.
Program presented at the annual meeting of the Association of Fraternity/Sorority Advisors, Indianapolis, IN. Retrieved from http://works.bepress.com/ldlong/26