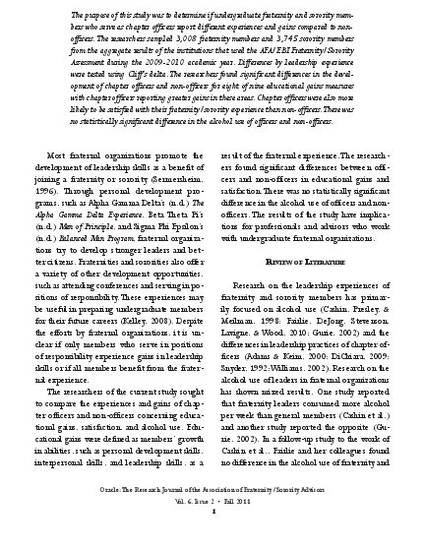 Article
"The more you put into it, the more you get out of it:" The educational gains of fraternity/sorority officers
Oracle: The Research Journal of the Association of Fraternity/Sorority Advisors (2011)
Abstract
The purpose of this study was to determine if undergraduate fraternity and sorority members who serve as chapter officers report different experiences and gains compared to non-officers. The researchers sampled 3,008 fraternity members and 3,745 sorority members from the aggregate results of the institutions that used the AFA/EBI Fraternity/Sorority Assessment during the 2009-2010 academic year. Differences by leadership experience were tested using Cliff's delta. The researchers found significant differences in the development of chapter officers and non-officers for eight of nine educational gains measures with chapter officers reporting greater gains in these areas. Chapter officers were also more likely to be satisfied with their fraternity/sorority experience than non-officers. There was no statistically significant difference in the alcohol use of officers and non-officers.
Keywords
Fraternity,
Sorority,
Leadership,
Outcomes
Publication Date
Fall 2011
Citation Information
Long, L. D., & Snowden, A. (2011). "The more you put into it, the more you get out of it:" The educational gains of fraternity/sorority officers.
Oracle: The Research Journal of the Association of Fraternity/Sorority Advisors, 6
(2), 1-14.