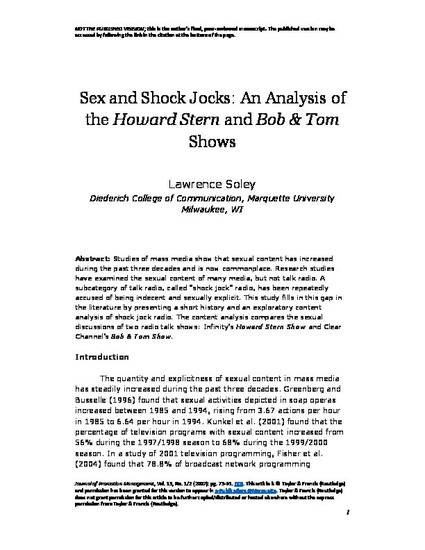 Article
Sex and Shock Jocks: An Analysis of the Howard Stern and Bob & Tom Shows
Journal of Promotion Management
Publication Date
11-1-2007
Publisher
Taylor & Francis
Original Item ID
doi: 10.1300/J057v13n01_06
Abstract
Studies of mass media show that sexual content has increased during the past three decades and is now commonplace. Research studies have examined the sexual content of many media, but not talk radio. A subcategory of talk radio, called "shock jock" radio, has been repeatedly accused of being indecent and sexually explicit. This study fills in this gap in the literature by presenting a short history and an exploratory content analysis of shock jock radio. The content analysis compares the sexual discussions of two radio talk shows: Infinity's Howard Stern Show and Clear Channel's Bob & Tom Show.
Citation Information
Lawrence Soley. "Sex and Shock Jocks: An Analysis of the Howard Stern and Bob & Tom Shows"
Journal of Promotion Management
(2007) ISSN: 1540-7594
Available at: http://works.bepress.com/lawrence_soley/25/