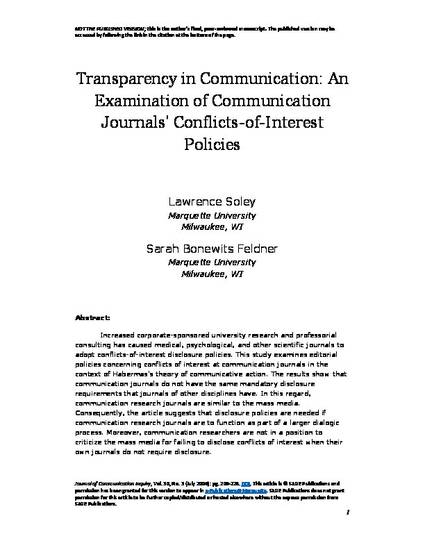 Article
Transparency in Communication: An Examination of Communication Journals' Conflicts-of-Interest Policies
Journal of Communication Inquiry
Publication Date
7-1-2006
Publisher
SAGE Publications
Original Item ID
doi: 10.1177/0196859906287769
Abstract
Increased corporate-sponsored university research and professorial consulting has caused medical, psychological, and other scientific journals to adopt conflicts-of-interest disclosure policies. This study examines editorial policies concerning conflicts of interest at communication journals in the context of Habermas's theory of communicative action. The results show that communication journals do not have the same mandatory disclosure requirements that journals of other disciplines have. In this regard, communication research journals are similar to the mass media. Consequently, the article suggests that disclosure policies are needed if communication research journals are to function as part of a larger dialogic process. Moreover, communication researchers are not in a position to criticize the mass media for failing to disclose conflicts of interest when their own journals do not require disclosure.
Citation Information
Lawrence Soley and Sarah Bonewits Feldner. "Transparency in Communication: An Examination of Communication Journals' Conflicts-of-Interest Policies"
Journal of Communication Inquiry
(2006) ISSN: 0196-8599
Available at: http://works.bepress.com/lawrence_soley/2/