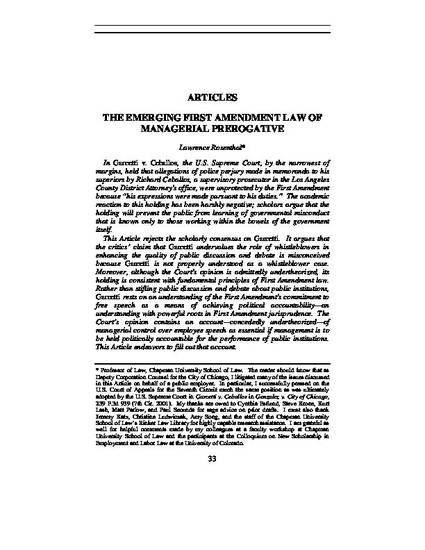 Article
The Emerging First Amendment Law of Managerial Prerogative
Fordham Law Review (2008)
Abstract
In Garcetti v. Ceballos, the Supreme Court, by the narrowest of margins, held that allegations of police perjury made in memoranda to his superiors by Richard Ceballos, a supervisory prosecutor in the Los Angeles County District Attorney's office, were unprotected by the First Amendment because "his expressions were made pursuant to his duties. . . ." The academic reaction to this holding has been harshly negative; scholars argue that the holding will prevent the public from learning of governmental misconduct that is known only to those working within the bowels of the government itself.
This article rejects the scholarly consensus on Garcetti. The critics' claim that Garcetti undervalues the role of whistleblowers in enhancing the quality of public discussion and debate is misconceived, I will argue, because Garcetti is not properly understood as a whistleblower case. Ceballos did not take his case against the district attorney's office to the public; therefore his speech could not have advanced the public's understanding and evaluation of the district attorney's performance. Moreover, although the Court's opinion is admittedly undertheorized, its holding is consistent with fundamental principles of First Amendment law. Rather than stifling public discussion and debate about public institutions, Garcetti rests on an understanding of the First Amendment's commitment to free speech as a means of achieving political accountability – an understanding with powerful roots in First Amendment jurisprudence. The Court's opinion contains a sketch – concededly partial and somewhat obscure – of managerial control over employee speech as essential if management is to be held politically accountable for the performance of public institutions.
This article endeavors to fill out the sketch. It argues that Garcetti recognized a prerogative of public employers to regulate duty-related speech of public employees in order to ensure that these officials are accountable for the manner in which the offices that they hold discharge their public duties. After all, if the First Amendment were understood to require that all speech-related disputes between public employees and their superiors be referred to binding arbitration overseen by the judiciary, then politically accountable officials would be denied effective control over public institutions, a result that would seriously compromise the First Amendment's commitment to ensure that the functioning of public institutions be subject to effective political accountability. Precisely because the electorate is ordinarily entitled to judge the performance of public institutions, effective accountability demands that responsibility for that performance not become fragmented between politically accountable management and judicial overseers.
The article begins with an exploration of Garcetti. Part I demonstrates that Garcetti essentially abandons the Court's prior approach to the First Amendment rights of public employees by embracing a new inquiry that focuses on an identification of the scope of legitimate managerial prerogatives. Managerial prerogative, in turn, ensures that political officials have effective control over the functioning of public offices – and therefore are fairly held politically accountable for the operations of those offices. This concern for maintaining political accountability is anchored in fundamental First Amendment principles. There is no constitutional value, however, in preserving political accountability for functions of public offices that the Constitution places beyond the control of the political process. It follows that managerial prerogative extends only to constitutionally permissible managerial objectives. Part I concludes with a consideration of the future of public employee speech litigation in light of the emerging law of managerial prerogative.
Part II considers the implications of this new law of managerial prerogative in another employment-related context – laws forbidding discriminatory harassment. There has been a powerful current of scholarly argument that the First Amendment places substantial limitations on the power of government to forbid sexually or racially harassing speech. At least four Members of the United States Supreme Court have expressed significant support for this view. Part II demonstrates that under the concept of managerial prerogative embraced by Garcetti, governmental power to forbid harassing speech in the workplace is largely unconstrained by the First Amendment.
In Part III, the article places Garcetti within the context of a broader trend in recent First Amendment jurisprudence. Part III sketches the emerging doctrinal framework of this new First Amendment law of managerial prerogative and then, to illustrate the character of emerging doctrine, applies this framework to institutions of higher education and the concept of academic freedom – an issue noted but set aside in Garcetti. Part III argues that the emerging First Amendment law of managerial prerogative permits public universities to regulate academic speech in a manner that is consistent with scholarly norms as a means of achieving legitimate institutional objectives.
Keywords
First Amendment,
public employees,
Connick v. Myers,
Garcetti v. Ceballos,
antidiscrimination law,
antiharassment law,
academic freedom,
employment discrimination,
racial harassment,
sexual harassment
Publication Date
October, 2008
Citation Information
Lawrence Rosenthal,
The Emerging First Amendment Law of Managerial Prerogative
, 77
Fordham L. Rev.
33 (2008). Available at: http://works.bepress.com/lawrence_rosenthal/5