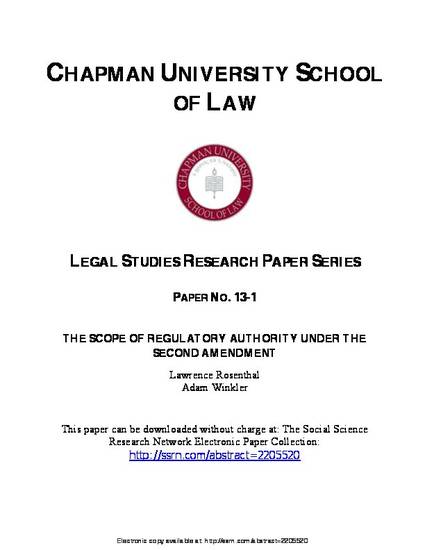 Article
The Scope of Regulatory Authority Under the Second Amendment
Chapman University Law Research Paper No. 13-1 (2013)
Abstract
This paper will appear as a chapter in a forthcoming book to be published by the Johns Hopkins University Press that analyzes the efficacy of firearms regulation. In this paper, the authors analyze the emerging jurisprudential framework for assessing the validity of firearms regulation under the Second Amendment to the United States Constitution. This emerging framework, the authors contend, preserves substantial regulatory authority for federal, state, and local governments. The authors then assess the constitutionality of the leading proposals for regulatory reform that have emerged in the wake of the tragic events at Sandy Hook Elementary School in Newtown, Connecticut.
Keywords
Second Amendment,
District of Columbia v. Heller,
gun control,
Sandy Hook,
Newtown
Publication Date
January 22, 2013
Citation Information
Lawrence Rosenthal. "The Scope of Regulatory Authority Under the Second Amendment"
Chapman University Law Research Paper No. 13-1
(2013)
Available at: http://works.bepress.com/lawrence_rosenthal/32/